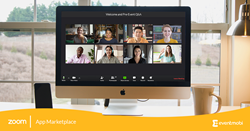 TORONTO (PRWEB) November 30, 2020
EventMobi is excited to announce the recent listing on the Zoom App Marketplace as one of the first virtual event platform providers to offer an integration with the world's leading video conferencing platform. This powerful integration means that event planners can easily set up secure Zoom sessions within the EventMobi Virtual Space that attendees can access with a single click.
EventMobi and Zoom: Branding, Customization, Best-In-Class Security and Reliability
By combining EventMobi and Zoom, organizers of virtual events can leverage the key features and benefits of two market-leading technology providers. EventMobi's virtual event platform allows organizers to design fully customized, branded online event experiences that leverage a comprehensive range of advanced engagement and networking features.
Zoom has proven to be the most reliable and popular webinar and video conferencing provider because of its best-in-class stability, security, quality of video and ease of use.
This gives the EventMobi and Zoom package a strong advantage over virtual event platforms with a basic streaming capability, as they lack the infrastructure, features and reliability provided by Zoom. Additionally, market familiarity with the Zoom platform means less time is required for onboarding. Given that 65% of all virtual sessions on the EventMobi platform are streamed using Zoom, planners have demonstrated that this is their preferred live stream and video conferencing tool.
An added benefit of the EventMobi platform is that for customers who purchase EventMobi's GoLive! production services, the use of a Zoom license is included in the package at no additional cost.
A Secure, Seamless Experience for Planners and Attendees
This new integration improves the user experience both for the planner and their attendees. Organizers of complex virtual conferences with a large number of interactive sessions can quickly and easily add their Zoom meetings and webinars to the EventMobi Virtual Space. After creating their meetings in Zoom, a corresponding session within the EventMobi platform can be set up and linked to the relevant Zoom meeting from a simple dropdown menu. This removes the need to copy and paste links, saving time and eliminating the potential for errors.
Attendee names and email addresses are automatically forwarded from the EventMobi Virtual Space to the relevant Zoom session, which allows attendees to join sessions with a single click — no additional meeting codes or passwords required. This also means event organizers don't need to manually approve each attendee, as EventMobi automatically lets registered attendees join the session. This process adds another layer of security, as the personalized URL can only be used by the attendee in question and not be shared with outside parties. In addition, this also ensures that attendee names will display correctly in the Zoom meeting so planners and hosts can easily identify everyone who has joined. When setting up breakout sessions ahead of the event, planners can be confident that the right attendees will be in each room. Finally, by having consistent attendee IDs across EventMobi and Zoom platforms, user specific analytics, engagement and attendance can easily be aggregated in one report.
About EventMobi
EventMobi makes it easy for event organizers to plan, promote, monetize and deliver engaging online, hybrid and in-person event experiences. From website, registration and an award-winning event app, to the new Virtual Event Space and fully managed online conference production, EventMobi's end-to-end event management platform has been trusted by planners since 2009 at 20,000+ global events.
Press enquiries to: Chrissy Gow, chrissy@eventmobi.com