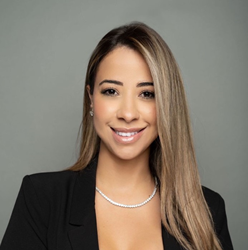 "I wanted to elevate myself to the next level and EventPrep has a strong reputation for excellence when it comes to government contracting and corporate event planning. I also appreciate the owner's involvement in the company's day to day operation and commitment to the mentoring journey."
FRANKLIN LAKES, N.J. (PRWEB) May 27, 2021
Higgins became the seventeenth EventPrep franchisee when she invested into the franchise system in late 2020. A true visionary, Higgins strategically purchased her franchise amidst one of the most challenging times in the history of hospitality, using the COVID depressed industry as ground zero to build a solid foundation for her new business. Now that the industry is gradually returning to normal, she is preparing to launch the grand opening of her New Jersey based franchise on July 1st, 2021.
Higgins built an eclectic career portfolio over the past decade in which she gained an enormous amount of experience organizing events for several different industry verticals. In her new role as an EventPrep franchisee, Higgins will be providing her clients complimentary venue sourcing services and first-class meeting planning services. While Higgins is well versed in many industries, she is most passionate about sporting and entertainment events such as concerts, art shows, and festival.
Founder and CEO of EventPrep, Paul Trapp, said: "We are absolutely delighted to welcome Dayana to the EventPrep family. Her expertise in event consultancy and hospitality puts her in a unique position to serve our New Jersey clients with professionalism and distinction."
Higgins joins a strong team of event management professionals operating successful EventPrep franchises across the country. When asked about her motivation for wanting to become a franchise owner for EventPrep, Higgins explained: "I wanted to elevate myself to the next level and EventPrep has a strong reputation for excellence when it comes to government contracting and corporate event planning. I also appreciate the owner's involvement in the company's day to day operation and commitment to the mentoring journey."
Organizations who want to learn more regarding hotel accommodations and vendue sourcing, as well as event management services for their sporting and entertainment events in the US and abroad can contact Dayana for further information at http://eventprep.com/dayanahiggins/.
Media contact: Dayana Higgins
Email: dhiggins@eventprep.com
About EventPrep
Founded in 2016 by military veterans, EventPrep is a full-service event planning and management company headquartered in Central Florida with franchise owners located throughout the U.S. EventPrep's focus is to eliminate the anxiety and frustration of researching, planning, and delivering conferences by making the business of event planning and management streamlined, simple and efficient for the client. EventPrep's sister company, Federal Conference was ranked No. 2 on the Inc. 500 list and delivers more than 3,000 events per year. For more information on EventPrep, visit eventprep.com.