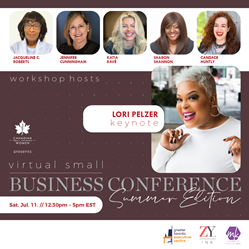 TORONTO (PRWEB) July 10, 2020
Canadian Small Business Women will host a Virtual Summer Business Conference on July 11th, 2020, creating a platform for entrepreneurs and business enthusiasts to gain valuable experience from keynote speakers, subject-matter experts and a vendor exposition. As in-person events slowly make a comeback, virtual events continue to be the preferred alternative, making it easier to keep following health protocols and ensuring the safety of individuals. While businesses are slowly re-opening, changes in regulations and practices are being affected due to COVID-19. How to adapt to the current situation, what is efficient, what tools and approaches to use - this conference brings together experts to provide unique and useful information to help entrepreneurs and enthusiasts succeed in these uncertain times.
Sourcing an event platform that would be suitable to host full scale conferences at a reasonable rate was no easy task for the team at Canadian Small Business Women. The goal of recreating the feeling of walking into an event knowing that you will have full access to on-stage speakers, networking, vendors and breakout sessions became a reality by using a virtual platform called Hopin. With two full scale conferences via this platform under their belt, it was only natural that they would move forward with hosting yet another conference featuring award winning speakers spanning Canada and the USA.
This event will feature Keynote Speaker, Lori Pelzer; followed by breakout sessions with subject-matter experts, including Jennifer Cunningham, Candace Huntly, Jacqueline C. Roberts, Katia Ravé, and Sharon Shannon; a vendor exposition, and one-on-one networking sessions, from 12:30PM to 5:00PM, EST.
Tickets to the Virtual Summer Business Conference are still available online, starting from $23 and more information about the event can be found on the Canadian Small Business Women website and social media channels.
More About Canadian Small Business Women:
Canadian Small Business Women was created to provide a central hub for aspiring Canadian business women to find the necessary resources to take their business from the planning stage to a reality. The organization also provides a business directory, event information, and advertising opportunities for existing Canadian Small Business Women. Through their blogs, social media pages and related articles, they connect experts to aspiring and current business women, and provide the information needed to take their businesses to the next level.