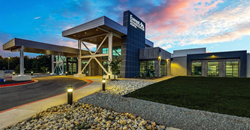 Through specialized care, our patients will have a much better opportunity to regain independence and restoration of function.
DALLAS and TEMPLE, Texas (PRWEB) August 08, 2019
Everest Rehabilitation Hospital cuts the ribbon at their grand opening for their newest inpatient and outpatient physical rehabilitation hospital to serve Central Texans for years to come.
The 36-bed, 41,000 square foot, modern rehabilitation hospital is located at 23621 SE H.K. Dodgen Loop (Loop 363), across from Temple College in Temple, Texas. The hospital provides comprehensive rehabilitative services and around-the-clock nursing care to patients overcoming a variety of debilitating illnesses and injuries such as spinal cord impairment, amputations, complex orthopedic conditions, brain injuries, strokes and neurological disorders.
Everest's 6-acre campus includes a large outdoor mobility courtyard and two large therapy gyms as well as an in-house pharmacy, indoor and outdoor dining halls and a HydroWorx pool whereby an underwater treadmill and jets create buoyancy to produce low-impact resistance to better serve their patients.
The project represents a $23 million-dollar investment in the Central Texas region and employs more than 100 people directly. Each of Everest Rehabilitation Hospitals are designed to quickly expand by 18 additional inpatient rooms should the market dictate the need.
"We are absolutely thrilled to be able to provide a state-of-the-art physical rehabilitation hospital and a remarkably trained staff for the benefit of Central Texans," said Jay Quintana, CEO and co- Founder of Everest Rehabilitation Hospitals. "Through specialized care, our patients will have a much better opportunity to regain independence and restoration of function after they have experienced an injury. Our physician-led team of rehabilitation therapists provide one on one therapy, five to seven days a week, daily medical visits by rehab physicians and a strong nurse patient ratio that contributes to the optimal outcomes."
About Everest Rehabilitation Hospitals, LLC
Everest Rehabilitation Hospitals LLC, based in Dallas, Texas, is a specialty physical rehabilitation hospital company focused on providing high quality, physical rehabilitation care. Everest is passionate about patient care; striving to create healing and nurturing environments for all patients that not only meet their medical needs but address their emotional and social needs as well. Patients are guided through the necessary steps to reclaim daily life, recover function, and return to an optimal quality of life by combining the latest treatments, technologies, and research with a unique interdisciplinary team approach involving the patient and family from day one. Everest provides the highest level of care available to patients with disabilities caused by injuries or illnesses, or from traumatic accidents.
Jay Quintana, CEO/ Co-Founder
jquintana(at)everestrehab(dot)com
469-713-1145