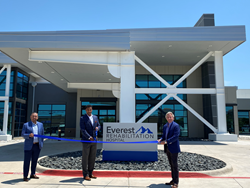 Patients thrive best when their environment and care far exceeds their expectations in the high quality, modern rehabilitation hospital setting at Everest.
DALLAS and KELLER, Texas (PRWEB) August 06, 2020
Everest Rehabilitation Hospitals today cut yet another ribbon for the opening of its newest 36 private bed, 41,000 square foot, modern post-acute care rehabilitation hospital in Keller, Texas (N. Ft. Worth) at 791 S. Main Street. The hospital provides comprehensive rehabilitative services and around the clock registered nursing care to patients overcoming a variety of debilitating illnesses and injuries such as stroke and other neurological disorders, brain injuries, spinal cord injuries, amputations, orthopedic and other chronic complex medical conditions.
Jay Quintana, Everest Rehabilitation's CEO and co-founder said, "While our traditional hospital ribbon cutting festivities are dampened by the Coronavirus; we are ecstatic about opening our fourth identical, 36-bed rehabilitation hospital in Keller, Texas. Our newest Keller, TX location is centrally located in the heart of the fastest growing part of the Dallas/Ft. Worth metroplex. We look forward to providing exceptional post-acute health care to the communities of Keller, Southlake, Bedford, Ft. Worth, Westlake, Trophy Club, Roanoke, Grapevine, Watauga, Colleyville, North Richland Hills and beyond. Rehabilitation hospitals, like Everest, are extremely valuable to the communities we serve as we complete the continuum of care to get patients home. We whole-heartedly believe that patients thrive best when their environment and care far exceed their expectations in the high energy, high quality, modern hospital setting at Everest."
Omar Jenkins, Everest Rehabilitation's CFO and co-founder said, "We started looking for a site in this part of the Dallas/Ft. Worth metroplex over four years ago and finally the perfect five acre site became available after an exhaustive two year search. We are excited to be able to provide one to one physical therapy care to our patients, five to seven days a week in this region. Our strong nurse to patient ratio contributes to optimal outcomes in our post-acute care, naturally lit hospitals."
The hospital project represents a $23 million dollar investment in the community and includes numerous uncommon hospital details akin to a luxury hotel. The project includes spacious, state of the art physical therapy gyms, a large outdoor (park like) mobility courtyard for therapeutic use, a HydroWorx aqua therapy system, a fully furnished Assisted Daily Living apartment where a patient can practice "every day" activities, several family gathering areas, a large open dining hall, a real therapy car, in-house dialysis and an in-house pharmacy. Everest Rehabilitation hospitals provide interdisciplinary care with physician-led teams of therapists focused on improving a patient's quality of life in a modern and naturally lit setting. Each identical 36-private bed Everest Rehabilitation Hospital is carefully designed to expand by 18 additional private rooms. The entire infrastructure (dining, kitchen, parking and mechanical) is already in place for every hospital to support the bed expansion. The Keller, TX physical rehabilitation hospital is a prime location for these room additions.
About Everest Rehabilitation Hospitals, LLC
Everest Rehabilitation Hospitals LLC, based in Dallas, Texas, is a multispecialty acute care physical rehabilitation hospital company focused on providing high quality, physical rehabilitation care. Everest is passionate about patient care; striving to create healing and nurturing environments for all patients that not only meet their medical needs but address their emotional and social needs as well. Patients are guided through the necessary steps to reclaim daily life, recover function, and return to an optimal quality of life by combining the latest treatments, technologies, and research with a unique interdisciplinary team approach involving the patient and family from day one. Everest provides the highest level of care available to patients with disabilities caused by injuries or illnesses, or from traumatic accidents.
Jay Quintana, CEO/ Co-Founder
Jquintana(at)everestrehab.com
469-713-1145