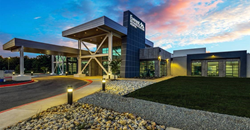 We are proud that our hospitals have attracted the attention of such well-respected healthcare organizations
DALLAS and KELLER, Texas and OKLAHOMA CITY (PRWEB) March 03, 2021
Everest Rehabilitation Hospitals, LLC is pleased to announce the sale of two of their operating rehabilitation hospitals (Oklahoma City, OK and Keller, TX). The hospital sales were made to Kindred / Texas Health Resources in Keller, TX and Kindred / Mercy Hospitals in Oklahoma City, OK.
"This is an extraordinary day in our company's history, and we are proud that our hospitals have attracted the attention of such well-respected healthcare organizations. We continue to execute upon our strategy of developing and operating multiple physical rehabilitation hospitals across the United States, including our most recent announcement of our 7th rehabilitation hospital in E. El Paso, TX. We could not be prouder of each of our team members that contributed to the successful development and opening of these stellar hospitals." said, Jay Quintana, CEO/Co-Founder.
Everest Rehabilitation Hospitals has developed and operated several identical 36-bed inpatient physical rehabilitation hospitals in communities where current rehabilitation need is statistically unmet. Each facility is created with a specific sleek, modern, and healing design to optimize patient recovery time. Natural sunlight fills the room while the comprehensive rehabilitation gyms are complete with top-of-the-line equipment. With each of the 36 private rooms complete with a 55-inch flat screen TV, bright unique art, and a private contemporary bathroom, patients and family members often comment their experience was likened to staying in a five-star hotel, rather than a post-acute care hospital.
Truist Securities and Husch Blackwell represented Everest Rehabilitation Hospitals in this transaction. "Husch Blackwell is honored to have assisted Everest Rehabilitation Hospitals in this transaction and we look forward to working with Everest in their continued growth." said Alison Hollender, Partner.
About Everest Rehabilitation Hospitals, LLC
Everest Rehabilitation Hospitals LLC, based in Dallas, Texas, is a multispecialty acute care physical rehabilitation hospital company focused on providing high quality, physical rehabilitation care. Everest is passionate about patient care; striving to create healing and nurturing environments for all patients that not only meet their medical needs but address their emotional and social needs as well. Patients are guided through the necessary steps to reclaim daily life, recover function, and return to an optimal quality of life by combining the latest treatments, technologies, and research with a unique interdisciplinary team approach involving the patient and family from day one. Everest provides the highest level of care available to patients with disabilities caused by injuries or illnesses, or from traumatic accidents.
Jay Quintana, CEO/ Co-Founder
jquintana(at)everestrehab.com
469-713-1145