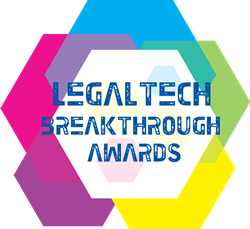 "Our technology tools help customers simplify discovery and improve collaboration, and we are thrilled to receive this award in recognition of our hard work and success in the LegalTech industry" - AJ Shankar, CEO, Everlaw
OAKLAND (PRWEB) November 19, 2020
LegalTech Breakthrough, a leading independent market intelligence organization that evaluates and recognizes standout technology companies, products and services supporting legal professionals around the globe, today announced that Everlaw has been named the exclusive winner of the 'Overall eDiscovery Solution Provider of the Year' award in the inaugural LegalTech Breakthrough Awards program.
Everlaw is an AI-powered eDiscovery platform helping legal, corporate, and government teams uncover information that can make or break a case. The platform combines speed, security, and ease-of-use to help users investigate issues more thoroughly, uncover truth more quickly, and present findings more clearly.
Everlaw is used by global law firms, corporations, journalists, and activists – as well as all 50 U.S. state attorneys general. In 2020, both data stored and the number of cases on Everlaw's platform more than doubled year-over-year. The company offers its platform for free through the Everlaw for Good program, giving nonprofits, journalists, educators, pro bono lawyers, and others access to the information they need to expose facts and promote justice.
"This year, COVID-19 has emphasized the need for a platform that allows legal teams to collaborate efficiently from anywhere. Everlaw has continued to focus on innovating our product. We have released dozens of new features in 2020 including significant enhancements to review, conversational search and our case preparation suite of tools, Storybuilder, with several more to come through our four-week product release cycle," said AJ Shankar, CEO, Everlaw. "As the digital universe expands rapidly, litigators and internal investigators are tasked with mining through mountains of data and documents. Our technology tools help customers simplify discovery and improve collaboration, and we are thrilled to receive this award in recognition of our hard work and success in the LegalTech industry."
The mission of the LegalTech Breakthrough Awards is to honor excellence and recognize the innovation, hard work and success in a range of LegalTech categories, including case management, client relations, data and analytics, documentation, legal education, and bots and legal assistants.
"Everlaw's AI-backed technology tools for the legal industry support clients around the world, including nonprofits, educators, and journalists whose free access to the platform through the Everlaw for Good program is helping shine a light on important issues across the U.S.," said Bryan Vaughn, Managing Director of LegalTech Breakthrough Awards. "We are proud to award Everlaw with 'Overall eDiscovery Solution Provider of the Year' designation and we congratulate the entire Everlaw team on their well-deserved industry recognition."
About LegalTech Breakthrough
Part of Tech Breakthrough, a leading market intelligence and recognition platform for global technology innovation and leadership, the LegalTech Breakthrough Awards program is devoted to recognizing the best companies, technologies, products and services in the field of Legal Technology. The LegalTech Breakthrough Awards program provides a forum for public recognition around the achievements of technology companies and solutions in categories including case management, client relations, data and analytics, documentation, legal education, and bots and legal assistants. For more information visit LegalTechBreakthrough.com.
About Everlaw
Everlaw blends cutting-edge technology with modern design to help government entities, law firms, and corporations solve the toughest problems in the legal industry. Everlaw is used by Fortune 100 corporate counsels and household brands like Hilton and Dick's Sporting Goods, 76 out of the AM Law 100, and all 50 U.S. state attorneys general. Based in Oakland, California, Everlaw is funded by top-tier investors, including CapitalG, Menlo Ventures, Andreessen Horowitz, and K9 Ventures.