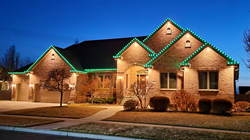 EverLights patented technology allows customers to use our mobile app to turn their lights on and off with millions of color options for every occasion throughout the year
SALT LAKE CITY (PRWEB) September 27, 2021
With less than 90 days until Christmas and just one month from Halloween, Americans are scrambling in their garages and attics, untangling lights and getting ladders ready for the precarious home lighting season. This annual ritual is expensive, time consuming and dangerous, but it doesn't have to be. EverLights has the permanent solution.
EverLights is the smarter, safer and more affordable way to light up a home with permanent Christmas lights for every occasion: from a favorite sports team's colors on game-day, to a gender reveal party, to all the big holidays like the 4th of July, Halloween, Thanksgiving and Christmas.
EverLights will forever eliminate the stress and danger of hanging exterior lights and then having to take them down again. No more ladders and no more tacky bulbs to look at when they're not on, EverLights have a stealth design that are only seen when you want to show your colors.
"We all love the look of a well decorated house during the holidays but putting up and taking down your lights every year is time consuming, frustrating and even dangerous," said Darren Taylor, Co-Founder of EverLights. "EverLights patented technology allows customers to use our mobile app to turn their lights on and off with millions of color options for every occasion throughout the year. Permanently and almost invisibly installed, you'll never know they're there by day, but at night your house will be lit up for your neighbors to envy."
Each set of EverLights comes with a starter kit for DIYers or customers can connect with a local EverLights professional installer to make it even easier.
EverLights Features include:

50,000 hours of life expectancy for each LED light
Affordable and energy efficient
Super bright when on, stealth when off
Look perfectly straight (no drooping)
Control every light, color and pattern from your smartphone
Safe and permanent
Weather resistant and designed for year-round use
Set on and off timers
EverLights are available now http://www.myeverlights.com/
About EverLights
Life is full of many exciting events, so why not celebrate all great occasions in style. Hosting a game-day party - light up your home with your team's colors. If you're having a birthday, baby or bridal shower - customize a color coordinated light show. EverLights also make a perfect accent for wedding receptions and other commercial décor. Every occasion can be custom lit. While your neighbors struggle putting up Christmas lights like Chevy Chase in "Christmas Vacation", you can be enjoying time with family and friends inside, while the outside of your home illuminates the joy of each season and occasion. It's time to light up the night. Every Season, Every Color, EverLights