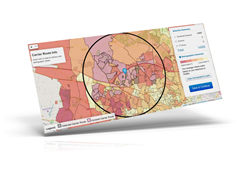 We're proud of this accomplishment, but we're even more proud of the positive impact these offers have on businesses...
(PRWEB) October 11, 2016
Richmond-based Taradel LLC, a nine-time Inc. 5000 marketing services firm, announced today it has printed and mailed one hundred million Every Door Direct Mail® pieces.
The company's groundbreaking, self-service direct mail technology is used by thousands of small business owners, agencies, non-profits, international brands, and government agencies.
"We're proud of this accomplishment, but we're even more proud of the positive impact these offers have on businesses, communities, and people," says Jim Fitzgerald, founder and CEO of Taradel. "Our EDDM® service helps people reach their own meaningful goals. We're excited about that."
Advertisers, particularly within the small business sector, use Taradel's technology to launch turnkey direct mail campaigns to targeted local neighborhoods – driving increased awareness and sales.
Tory Chlanda, owner and president of Lawn Jockey Inc. in Amherst, Massachusetts, is a regular user. "We are able to showcase our small business story and focus on specific demographics in a cost-effective way," says the small business owner. "We've been using Taradel's Every Door Direct Mail® platform to reach new customers since 2011. Their service is the backbone of my landscape and construction firm's marketing."
National brands are encouraging their franchisees to get involved too. Client, and fellow Richmond-based company, Outdoor Living Brands, leverages Taradel's platform and technology to drive revenue growth in markets across the U.S.
"Taradel has become a valued partner," says Karin Harrison, Marketing Manager for the Mosquito Squad franchise. "They bring new marketing solutions to the table and their full-service, turnkey, Every Door Direct Mail® program allows our franchisees to quickly plan an effective direct mail program."
According to a recent report by the Direct Marketing Association (DMA), direct mail averages a 15-17% return on investment (ROI). The same report finds that direct mail outperforms digital channels in terms of response rate. Direct mail averages a 3.7% response rate with a house list and a 1% rate with a prospect list -- while all digital channels combined average just 0.62%.
To learn more about Taradel and Every Door Direct Mail® marketing, visit http://www.everydoordirectmail.com.
###
About Taradel LLC
Taradel is a full-service marketing firm and perennial Inc. 5000 company. Our mission is to make marketing easy by re-thinking existing marketing platforms, developing better solutions and providing advertisers with affordable, agency-quality results. For more information, visit http://www.Taradel.com
EVERY DOOR DIRECT MAIL®, EDDM®, EDDM RETAIL®, EDDM BMEU™, UNITED STATES POSTAL SERVICE®, U.S. POSTAL SERVICE®, USPS®, U.S. POST OFFICE®, POST OFFICE™, and ZIP CODE™ are trademarks of the United States Postal Service® and are used with permission under license.