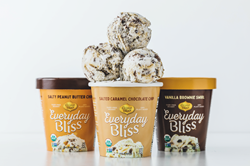 We want to make the best ice cream for everyone, this just happens to be plant-based.
EUGENE, Ore. (PRWEB) February 28, 2020
Today the plant-based experts at Coconut Bliss, a family-owned, dairy-free ice cream producer, announce the launch of Everyday Bliss, a new line of organic, plant-based ice creams. The Everyday Bliss line includes four completely new flavors, all made with a coconut base: Caramel Macchiato, Salty Peanut Butter Chip, Salted Caramel Chocolate Chip and Vanilla Brownie Swirl. These flavor combinations have been made with the intention of being both indulgent and familiar. When compared to Coconut Bliss' classic plant-based ice cream offerings, Everyday Bliss' texture is less dense and more decadent. The Everyday Bliss line is also available at an "everyday" price point as an affordable indulgence.
"We want to make the best ice cream for everyone, this just happens to be plant-based," explains Kim Gibson Clark, President and CEO of Coconut Bliss. "Everyday Bliss was carefully created at a price point and with flavor profiles fitting for the needs of the larger population, and is a solution to everyday dietary needs and restrictions. Fans will be happy to know that our new Everyday Bliss line boasts the same level of indulgence, taste and quality standards Coconut Bliss is already known for."
Unlike other plant-based ice creams in the market, and in line with all Coconut Bliss products, Everyday Bliss is USDA Certified Organic and made from completely organic and fair trade ingredients. Each Everyday Bliss flavor is also gluten-free. This dedication to sourcing quality ingredients and producing the best product possible means each Everyday Bliss pint purchase directly supports independent and locally-owned farms. The care taken to source high-quality ingredients and perfect the Everyday Bliss recipe is also evident in the taste itself.
"I'm thrilled to introduce fans to Everyday Bliss," says Clark. "This is Coconut Bliss' first product line launch since Coconut Bliss premiered its core line in 2005. It's very much a labor of love and a response to the feedback and needs of our current customers. Everyday Bliss also opens up the opportunity for us to experiment with other types of organic, sustainable plant bases to use in our products. We're excited to begin this new chapter as a company in the fast-growing plant-based dessert sector."
Everyday Bliss pints are available for purchase now. For more information on online orders and finding locations where Everyday Bliss is sold, visit myeverydaybliss.com.