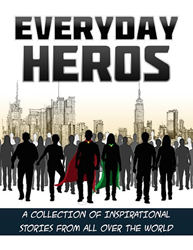 Everyday Heroes hit #1 on the Amazon bestseller list in less than nine hours
Peachtree City, GA (PRWEB) November 17, 2016
The November 11, 2016 Azon Blitz marketing campaign performed exactly according to plan, catapulting "Everyday Heroes: A Collection of Motivational & Inspirational Stories from around the World" to the top of Amazon's bestseller list. But the impact of that concentrated effort is still rippling, with the book – penned by a collective of heroic co-authors – remaining sky-high in the rankings for 7 days so far. As a result, charitable dollars continue to rack up for Children's Healthcare of Atlanta, which the blitz organizer chose as the recipient of all proceeds generated.
As of press time, "Everyday Heroes" was still sitting strongly in the number one position for Philosophers Biography—7 days after it launched on Amazon. Conservatively estimating then, the book has no signs of slowing down yet. And all the proceeds from those sales are all going to Children's Healthcare of Atlanta.
Why is this a conservative estimate? "Everyday Heroes" hit #1 on the Amazon bestseller list in less than nine hours and it has been sitting pretty at #1 New Releases in Philosophers Biographies ever since. Above and beyond that, on blitz day it also reached #4 in Amazon's Movers and Shakers category, #6 in New Release Motivation, #8 in New Release Self-Help and #23 in Overall Motivational.
This inspirational, motivational and instructional collection contains the brilliance of these Everyday Heroes: Matt Bacak, Brian Evans, Alex Arnold, Ani Catino, Anthony McCarthy, Ben Bressington, Chris Hickman, Daryl Hill, David Asarnow, David Perdew, David Wright, Deanna Grayly,Diane Conklin, Donna Kennedy, Dushka Zapata, Eileen Forrestal, Gary Kissel, Helga Zelinski, Henry Gold, Jill Nieman Picerno, Jocelyn Jones, Kathleen Gage, Lee Nazal, Lou Brown, Milton Brown, Nick James, Pat Slattery, Paul Kelly, Paul Wakefield, Philip Perrin, Rosanne D'ausilio, Ph.D., Sharvin Exubrio, Sherman Ragland, Suzanne Edwards and Tom Cone.
"First off, none of this would have been possible without my fantastic team of co-authors," explains the campaign's organizer. "But all our blitz participants played a major role in making this happen as well. They came together, spreading the word among their friends, family, and new fans. They are my heroes on this campaign."
Brian T. Evans, one of the motivators behind the blitz's success, points out, "It's not too late if you still want to get your copy and spread the word. More book sales equal more money for our charity, Children's Healthcare of Atlanta." Another success driver, Henry Gold, emphasizes, "We know that the reason we reach the impossible is really because we stay strong together." "Everyday Heroes" and the people behind it drive this point home.
For more information on the co-authors and promoters behind the chart-topping success of "Everyday Heroes, contact the organizer, Matt Bacak, at 404-537-1425. To order a copy of the book, with all proceeds benefiting Children's Healthcare of Atlanta, visit
https://www.amazon.com/Everyday-Heroes-Collection-Motivational-Inspirational/dp/0997224037/.