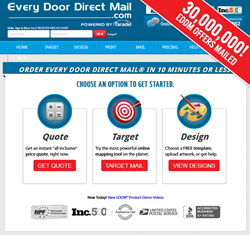 We think big at Taradel.
Glen Allen, VA (PRWEB) April 21, 2014
Taradel LLC, the company behind EveryDoorDirectMail.com, announced today that advertisers have mailed more than 30,000,000 Every Door Direct Mail® postcards and flyers via its popular website.
Powered by industry-leading tech innovations, such as U-Select™, the "point and click" online mapping tool, the perennial Inc. 5000 company continues to experience record growth into 2014.
"This milestone serves as validation that Every Door Direct Mail® is driving measurable results for our small business, non-profit, and franchise clients," says Jim Fitzgerald, founder and CEO of Taradel, LLC. "Our continued growth is a tribute to our hard-working team."
In recent months, Taradel has secured partnerships with clients ranging from automotive advertising agencies to international brands who find value in leveraging the company's powerful web-based EDDM® platform.
"We think big at Taradel," notes Chris Barr, director of marketing. "When we build solutions, such as our new White Label program, we try to change, improve, and streamline the way organizations use direct mail."
According to website metrics, EveryDoorDirectMail.com advertisers are able to target, create, and launch EDDM® campaigns in ten minutes or less online – a process which used to require hours' worth of planning. Additionally, advertisers now mail more than eight thousand offers per campaign, on average, which generates over twelve-hundred dollars in postage revenue for the USPS®.
"More than one hundred advertisers place orders and inquire about our services at EveryDoorDirectMail.com each day," says Fitzgerald. "And those numbers don't even include data from our white label partnerships with national and international brands."
For more information about Taradel's turnkey direct marketing solutions, visit http://www.everydoordirectmail.com. Follow the company on social media via Facebook and Twitter.
About Taradel LLC
Taradel LLC, founded in 2003, is a Virginia-based Inc. 5000 company with an A+ Better Business Bureau rating. The company provides agency-quality creative, print, and direct mail services at affordable rates.
###
EVERY DOOR DIRECT MAIL®, EDDM®, USPS®, U.S. POST OFFICE®, POST OFFICE™, and ZIP CODE™ are trademarks of the United States Postal Service® and are used with permission under license.