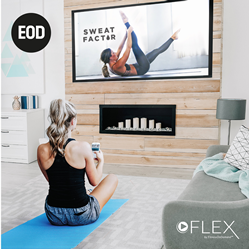 "We reviewed dozens of on-demand platforms and selected FLEX by FitnessOnDemand for its sheer diversity of leading global and U.K. fitness programming, its omnichannel delivery across web and app channels and especially its content management platform" - Duncan Jefford, director, Everyone Active.
MINNEAPOLIS (PRWEB) September 01, 2020
FitnessOnDemand, the leader in premium, on-demand, curated fitness content from the world's greatest fitness brands, just signed a deal to make the company's portfolio of classes and workouts available to Everyone Active's UK member base of 500,000 users. The agreement with leading leisure operator, Everyone Active in the United Kingdom, is one of the largest content subscription agreements made by FOD to date and is part of the company's ongoing growth in overseas markets that include the United Kingdom and Australia.
As part of Everyone Active's Everyone On Demand product, the new agreement makes 1,000 fitness classes, workouts and wellness content available to both Everyone Active existing and new members via mobile app. All content is entirely free, funded by Everyone Active and provided via FitnessOnDemand's streaming FLEX product.
The move comes as part of Everyone Active's commitment to source the best on-demand content to complement onsite classes at every physical center location. In this way no member has to make a choice between the gym, and their favorite on-demand session when returning, post lockdown. Classes and workouts include offered content from top fitness gurus and internationally acclaimed brands such as Jillian Michaels, SH1FT, Sweat Factor and Sleek Technique among many others. Members can gain instant access to specific instructor led classes and workouts that include HIIT workouts, core programs, yoga, stretch, cycling and many more. Members can access via mobile app wherever they seek to work out or at any of the 190 locations.
"Everyone Active strives to be at the forefront of the leisure market here in the UK,"
says Duncan Jefford, director, Everyone Active. "We reviewed dozens of on-demand platforms and selected FLEX by FitnessOnDemand for its sheer diversity of leading global and U.K. fitness programming, its omnichannel delivery across web and app channels and especially its content management platform. This, particularly, provides incredibly useful usage statistics and other data points that help us manage our member programming and understand usage trends across our locations. That functionality really stood out to us as we considered partners."
FitnessOnDemand's FLEX product and portfolio is part of an effort by Everyone Active to bring the right, flexible and convenient fitness content and classes to their vast membership during uncertain times when pandemic-concerns and both changing member usage patterns and needs continue to evolve. FLEX enables club operators to give all, or just select, members, based on their membership type, access to hundreds of curated classes, specific workouts, stretches, cool downs and wellness content from around the world. FLEX can be instantly and easily added to any existing FitnessOnDemand content management program.
"We started work on our FLEX product as far back as early 2019 and launched it coincidentally at a time this year when clubs of all sizes really turned up the dial on their member on-demand and digital content offerings," says Armin Krienke, director business development, FitnessOnDemand. "This agreement with Everyone Active represents a trend we're seeing in our business: the continued growth in our international client base but also larger, enterprise-scale introductions of FLEX that bring the product's benefits to truly massive and geographically diverse member locations."
For more information on FitnessOnDemand, the agreement or FLEX by FitnessOnDemand visit http://www.fitnessondemand247.com.
# # #
About Everyone Active (http://www.everyoneactive.com)
Everyone Active is the trading name for Sports Leisure Management (SLM), which operates leisure centers in partnership with local councils across England. SLM Ltd. was formed in 1987, managing just one leisure center in the U.K.'s Midlands. Today, Everyone Active manages 190 leisure facilities and cultural services in partnership with 62 different local authorities across the United Kingdom. These stretch from Sunderland in the north to Mid Suffolk in the east, Chichester in the south and Plymouth in the southwest. The company's growth is due to the ability to deliver well managed leisure facilities and an activity offering which provides great value for money. Everyone Active aims to increase the participation of local people in leisure activities, advocating a minimum of 30 minutes exercise five times per week.
About FitnessOnDemand (http://www.fitnessondemand247.com)
FitnessOnDemand is a global leader in the collection, curation and provision of high-quality, premium digital fitness content from some of the world's leading names and experts in personalized fitness. The company is the only provider of Omnichannel content in the fitness industry, meaning customers can experience branded content via mobile app, smart device or in-club and in-room installation. FLEX by FitnessOnDemand enables clubs to offer their members the same, seamless library of fitness and wellness content anywhere in the club, at home or on the go. This allows operators to build member loyalty and brand-affinity beyond the club walls. FitnessOnDemand is a leading provider of digital fitness to many industries including health clubs, premium residential and business property developers and leading, luxury hotel chains. Content creators include Jillian Michaels, SH1FT, Sweat Factor, Zumba & Strong by Zumba and many more.