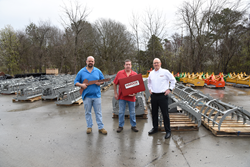 Everything Attachments doesn't use any steel less than grade 50
CONOVER, N.C. (PRWEB) March 12, 2020
In an agricultural industry first, Everything Attachments has teamed up with global steel giant SSAB to offer the most durable root rake grapples ever made, by using Hardox 450 to construct their most popular line of grapples ever. Everything Attachments debuted their 55" Wicked Root Rake Grapple in February of 2017 and has quickly become the industry leaders, by selling thousands of root rake style grapples to tractor owners all over the world, earning the reputation of having the toughest, lightest grapples on the planet.
Everything Attachments chose to use Hardox 450 due to its wear resistance, hardness, strength, and overall performance, which surpasses the metal found in most major tractor attachments. Most tractor attachments manufactured today are made out of A36 steel, or excess prime due, to its low price, while Everything Attachments doesn't use any steel less than grade 50, with the intentions of making lifetime attachments that don't need warranty claims.
Ted Corriher, the founder and president of Everything Attachments, whose family has been in the agricultural industry since the mid 1800's, has always believed in making products that can stand up to the daily use and abuse that tractor operators are capable of, so his ideology of Quality By Design™ is engineered into every piece manufactured in their new modern facility.
Every Wicked Root Rake Grapple made by Everything Attachments will have a "Hardox In My Body" decal on it to show a commitment of a high performing grapple, not only by Everything Attachments, but by Hardox as well. Hardox In My Body is a program designed by SSAB to show their commitment to enabling manufacturers to have the strongest wear resistant parts possible, without making them ridiculously heavy.
Hardox 450 is commonly used in mining equipment and heavy earth moving machinery to increase payload and the life of the machinery, due to a highly abrasive environment. SSAB prides themselves on strength over thickness, which means stronger and lighter machinery, just like Everything Attachments has designed their Wicked Root Rake Grapples.