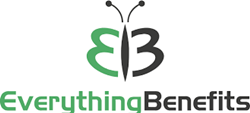 NEW PROVIDENCE, N.J. (PRWEB) March 31, 2020
EverythingBenefits, the provider of comprehensive, next-generation benefits technology services, announced today the launch of its new Collections and Payments solution. The platform's latest feature is designed to service employees who aren't able to leverage payroll to pay for their benefits.
Third Party Administrators and Service Providers including Payroll Service Bureaus and Professional Employer Organizations (PEOs) with clients who have employees on reduced payroll or furlough will find the service beneficial because employees will have the option to pay for the necessary services including their portion of benefits contributions and 401k loan repayments. Employees who are in these circumstances or who need to take time off to care for family members no longer have to fear lapsing on their policies and other financial obligations.
"During this difficult time fraught with tremendous personal and business disruption, EverythingBenefits continues to seek out and build the solutions that help employees and employers get back on track," said CEO, Rachel Lyubovitzky. "The Collections and Payments tool directly addresses the need for workers to keep their benefits and focus on other responsibilities."
The Payments and Collections intuitive user experience is built on top of the EverythingBenefits "Benefits Management" suite. It allows employers to easily set up collections accounts so employees can make payments online.
"Our goal is to provide employers, PEOs, and Payroll Service Bureaus with tools tailored to their business models that help eliminate stress wherever possible," said Daniil Fishteyn, Chief Technology Officer at EverythingBenefits. "EverythingBenefits is dedicated to developing solutions that empower employees to take charge of their benefits management."
To learn more, please visit https://www.everythingbenefits.com/solutions/payments-collections
About EverythingBenefits
EverythingBenefits is a leading provider of next-generation, end-to-end benefit technology solutions and services that help businesses of all sizes and their employees experience benefits in more meaningful ways. By leveraging an open business model, EverythingBenefits partners with benefit brokers, independent agents, insurers, payroll or human capital management companies, and other providers. The company's philosophy is that technology should make life simpler, more rewarding, and more enjoyable. For more information, please visit our web site at http://www.everythingbenefits.com or connect with us via LinkedIn, Twitter, or Facebook.