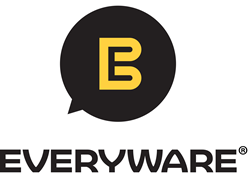 Since we've started invoicing through Pay-by-Text, we've been able to collect co-pays faster. Sending text messages ahead of appointments has increased check-in times, said Dr. Alfred Desimone, MD - South Florida Institute of Sports Medicine
AUSTIN, Texas (PRWEB) November 05, 2019
Everyware, a company redefining payment processing and customer engagement via two-way text communication, announced today that it launched it's HIPAA-compliant payment and messaging solution for the healthcare industry. The solution offers a convenient way for patients to pay while increasing operational efficiencies for healthcare organizations.
Practices are still relying on mail and phone agents to manage their payment collections, which both have lower response rates and much higher costs than a pay-by-text solution.
Everyware's Pay-by-Text for Healthcare was launched to address healthcare providers' need to collect patient payments faster. A 2017 study on healthcare revenue cycle management shows that 83% of Physician Practices with under five practitioners said the slow payment of high-deductible plan patients is their top collection challenge.
"We've created the ability for providers to send patient invoices, reminders, collect payments and provide receipts all through text message. This directly translates to increased collections and additional revenue," said Larry Talley, CEO/Founder of Everyware.
In addition to pay-by-text capabilities and payment collections, the Everyware solution includes on-going patient engagement capabilities through two-way-messaging for patient access representatives. Appointment and medication reminders via text message help providers and patients stay in sync and on their planned care path.
"We have been using Everyware to engage with our patients for years, and they love it! Since we've started invoicing through Pay-by-Text, we've been able to collect co-pays faster. Sending text messages ahead of appointments has increased check-in times." said Alfred Desimone, MD - South Florida Institute of Sports Medicine
Everyware's Healthcare solution is available to help healthcare organizations of every size and specialty get paid.
For more information on how Everyware can change the way businesses communicate with customers visit our Linkedin
About Everyware
Everyware is a conversational payment gateway that sends automated text receipts after every purchase to authorize and validate payments to prevent fraud. Sending a simple text receipt after every purchase will create a tether between you and the customer allowing them to text back when it's convenient for them. Opening this two-way communication with customers will help mitigate risk, improve customer service, and increase revenue. From merchant processing to sending simple text receipts, making text communication a part of the purchase process will improve the customer journey.