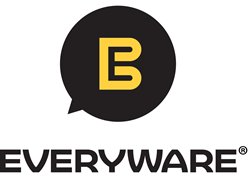 We know it will yield a big boost in fundraising for the season, which for us this means giving more kids the best chance to survive, said Stacey Levy, Ellie's Army Founder.
AUSTIN, Texas (PRWEB) December 03, 2019
'Tis the season for giving and Everyware is launching its Text to Give solution, enabling nonprofit, religious, and fund raising organizations to collect more donations faster and build a strong personalized connection with donors.
Today is Giving Tuesday, a day on which digital marketing experts predict a record-breaking $502 million in donations will be raised. This means potential donors' inboxes and web feeds are currently being inundated with fundraising campaigns. Donors are looking to give to the cause with the highest impact and easiest way to donate. High impact organizations that contact today's donors by text message and make it easy to give by text, are sure to have the collection edge.
Text message fundraising campaigns were proven powerful and grew in popularity among the nonprofit sector, when the American Red Cross raised $32 million by asking people to text "Haiti" to make $10 donations for disaster relief victims. Now, Everyware makes it easy to set up automated response and launch collection campaigns like the Haiti relief fund raiser.
Everyware's Text to Give keyword automation feature allows organizations to begin collecting donations with a simple, "Text 'Give' to donate" message. The donor replies with the amount they wish to give and receives an automatic text receipt. They can also ask questions and build lasting relationships with campaign representatives through two way messaging. Everyware's web-based payments portal allows organizations to watch Text to Give funds stack up in realtime.
Ellie's Army, a non-profit organization which provides financial assistance to children and young adults who are battling life-threatening illness, began a Text to Give fundraiser with Everyware this month.
"We knew text messaging was our audiences' preferred way to give and were anxious to add this method to our menu of donation options. We know it will yield a big boost in fundraising for the season, which for us this means giving more kids the best chance to survive." said Stacey Levy, Ellie's Army Founder. Text the word "GIVE" to (305) 928-2645 to give to Ellie's Army for Giving Tuesday.
Research shows 7 in 10 churchgoers use text messaging, making it an obviously strategic outreach channel for religious organizations to collect donations fast. In November, Everyware's Text to Give helped Immanuel Baptist Church in Fort Lauderdale gain a 10% boost in membership giving. Church leaders not only appreciate the easy setup for donation collections, but also the ability to message members back with any questions.
"Texting is not only a great way to raise funds for our mission but our members love how easy it is to give when they are away," said Pastor Larry Brister, Immanuel Baptist Church, Fort Lauderdale Text the word "GIVE" to (954) 280-6173 to give to Immanuel Baptist for Giving Tuesday.
About Everyware
Everyware is a conversational payment gateway that sends automated text receipts after every purchase to authorize and validate payments to prevent fraud. Sending a simple text receipt after every purchase will create a tether between you and the customer allowing them to text back when it's convenient for them. Opening this two-way communication with customers will help mitigate risk, improve customer service, and increase revenue. From merchant processing to sending simple text receipts, making text communication a part of the purchase process will improve the customer journey.
For more information on how Everyware can change the way businesses communicate with customers visit our Linkedin