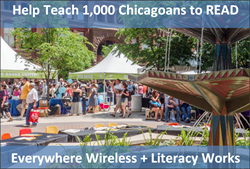 Chicago (PRWEB) June 07, 2017
More than 30 million adults in the United States, including over half a million Chicago citizens, have reading, writing and math skills below or at the third-grade level. As a result, they are four times as likely to be in poor health, two times more probable to be unemployed, ten times more likely to raise children with low literacy skills and can expect to earn half as much over their lifetimes compared to adults with more advanced levels of literacy.
In other words, low literacy is a serious national crisis that's taking a particularly tough toll on adults in Chicago. To help bring the crisis to its knees, Chicago-based Internet service provider Everywhere Wireless has joined forces with Literacy Works, which since 1995 has been committed to building a strong network of adult literacy programs, connecting learners and tutors to opportunities, and empowering diverse organizations to effectively serve adults with low literacy.
With the goal of helping teach 1,000 Chicagoans to read, the Everywhere Wireless + Literacy Works Partnership is focused on two key events:

At the Chicago Tribune's 33rd Annual Printers Row Lit Fest -- the largest free outdoor literary event in the Midwest, drawing more than 125,000 festivalgoers to the two-day showcase taking June 10 through June 11 in the South Loop neighborhood -- the partnership will collect donations from festivalgoers in exchange for t-shirts, books and comics that have been donated by Everywhere Wireless and its partners. All donations will go directly to Literacy Works to facilitate its continued mission of literacy and digital literacy, in which Everywhere Wireless also plays a pivotal role every day by providing Gigabit Internet service – the fastest Internet available in Chicago, according to Crain's Chicago Business – to residences, businesses, schools, public parks and beaches throughout the greater Chicago area.
Everywhere Wireless has launched a GoFundMe campaign that aims to raise $5,000 – which would enable Literacy Works to train 100 volunteer tutors on how to improve the basic literacy skills of 1,000 adults in Chicago.
Everywhere Wireless' partnership with Literacy Works marks the latest alliance the Gigabit Internet Service provider has forged with other Chicago organizations to help citizens in and around the city improve the quality of their lives and their communities. In 2015, Everywhere Wireless teamed up with the City of Chicago to deliver free Wi-Fi to many of Chicago's beaches and parks, including 31st Street, 57th Street and Oak Street Beach. In 2016, the company expanded its free Wi-Fi coverage to Oak Street Beach and most recently activated a free Wi-Fi network at Buckingham Fountain and the Museum Campus.
"From health and fitness blogs and parenting forums to job boards and academic websites, the Internet holds an almost unimaginable amount of potentially life-changing information, but it's of little use to people who can't read it," said Everywhere Wireless EVP of Strategy and Real Estate Keegan Bonebrake. "That's why we're proud to team up with Literacy Works to give 1,000 Chicagoans an opportunity to increase their literacy skills, and as a result, secure better jobs, manage their personal lives, advocate for themselves, enhance their parenting skills and contribute more to their community."
"We are thrilled to be partnering with Everywhere Wireless at Printers Row Lit Fest and grateful for how they have generously set up a GoFundMe campaign to help us in our ongoing commitment to change the lives of thousands of Chicagoans by improving their literacy skills," said Colleen McGaughey, Literacy Works' Development Director. "With the support of Everywhere Wireless and people throughout Chicagoland, we will continue to work tirelessly so that one day, all people will be able to realize their full potential through the ability to read, write and interpret the world."
About Literacy Works
Since 1995, Literacy Works has been building the capacity of Chicago-based adult literacy programs to provide effective instruction in their communities. More than 50 member organizations rely on Literacy Works to train their staff and volunteer tutors to work with adults on reading, writing, English language learning, and digital literacy. Each year, Literacy Works trains close to 700 literacy practitioners. They go on to serve about 20,000 adults who are working to build their basic skills. Literacy Works' Adult Education Helpline, (312) 998-READ, provides custom referrals to adults seeking a literacy program and to volunteers looking for a place to tutor. For more information about Literacy Works, visit http://www.literacyworks.org.
About Everywhere Wireless
Everywhere Wireless owns and manages a Chicago-based Gigabit Network designed for multi-family communities and businesses; clients include Cisco, CBS, Nike, Google, the Art Institute and the Field Museum, along with leading commercial and residential property developers throughout the greater Chicago area. Leveraging next-generation microwave technology, the Everywhere Wireless network delivers Internet speeds up to and beyond 1,000 megabits per second (Mbps), also known as Gigabit speeds, the fastest Internet available in Chicago as reported by Crain's Chicago Business. To help make a difference in the lives of the great people of Chicago, Everywhere Wireless has partnered with the City of Chicago to provide free Wi-Fi at many of the city's public parks and beaches -- and the company regularly contributes to such community-focused organizations as the Alzheimer's Association's Greater Illinois Chapter and the ReVive Center for Housing and Healing. For more information about Everywhere Wireless, visit http://www.EverywhereWireless.com.