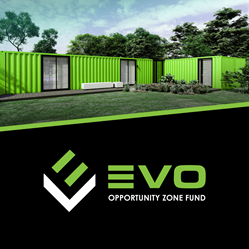 EVO Opportunity Fund, LLC launches seeking accredited investors for Energy Efficient Workforce Housing in Qualified Opportunity Zones.
ATLANTA (PRWEB) March 31, 2021
EVO Opportunity Fund, LLC launches seeking accredited investors for Energy Efficient Workforce Housing in Qualified Opportunity Zones. The Fund is raising Series A Round.
EXECUTIVE SUMMARY
Evo-lutionizing sustainable and affordable container living. The Fund seeks to develop energy efficient workforce housing in Qualified Opportunity Zones by repurposing storage containers as the market size is expected to reach $73 Billion by 2025 with a CAGR of 6.5%. The timing for opportunity is now.
FUNDS MISSION
The fund's mission is to create and develop state-of-the-art affordable and sustainable container housing. For millions located in economically distressed communities and designated opportunity zones across the country in order to help build back our nation's communities that need it most. While utilizing the radical tax breaks and incentives for investors provided by Qualified Opportunity Zone Funds.
EVO COMPANY OVERVIEW
Evo builds unique spaces for living by recycling shipping containers. These shipping containers are used in the most modern ways for comfortable and disaster-proof spaces.
All this is done with little to no impact on the environment and takes less time to create the structure as compared to a standard house.
Evo Homes are significantly durable and sustainable efficiency since the frame for our structures are certified steel containers. With a lifespan of 25+ years and very minimal maintenance.
EVOLUTION BEYOND EXPECTATION BEFORE EVO AFTER EVO SUSTAINABLE CONTAINER LIVING
Evo has partnered with several large companies like Berkshire Hathaway, Checkers Restaurant Company, Habitat for Humanity, The City of East Point Georgia, UPS and more.
The strategy is to build single and multi-family container homes in densely populated and distressed areas to resolve global housing issues. Evo has a team of hundreds of skilled and specialized laborers and construction companies are well-screened and top-rated. With the elite service vendor for the Home Advisor brand of Fortune 500 enterprise, IAC.
"We believe that success does not come with just completing the job but completing it to perfection. Our loyalty and care towards our customers as they build their homes is something that has helped us reach where we are today." says Majesty Gayle Owner & Fund Manager EVO Opportunity Fund, LLC.
THE OZ OPPORTUNITY
Opportunity Zones are designed to spur economic development by providing tax benefits to investors. First, investors can defer tax on any prior gains invested in a Qualified Opportunity Fund (QOF) until the earlier of the date on which the investment in a QOF is sold or exchanged. With even more tax break incentives along the way.
100% STEP UP TO FMV AT TIME OF SALE
OZ TAX BENEFITS Year 2026
5 Year Anniversary Initial TAX ON DEFERMENT WITH 10% REDUCTION IN BASIS
10% STEP UP IN BASIS Investment into Fund
100% DEFERMENT OF GAIN
INVESTOR OPPORTUNITY EXAMPLE
10% Step Up Basis (If invested for at least five years, the investors capital gains tax liability would be only $9M). If OZ investment is sold for $20 million at 10 years, generating another new $10 million capital gain, that gain would be tax-free if sold after a hold period of at least 10 years. If the OZ investment is held in the opportunity zone fund for 10 years or longer, there would be zero United States Federal Capital Gains tax liability.
QUALIFIED OPPORTUNITY ZONES FAQs:
The Tax Cuts and Jobs Act of 2017 created Qualified Opportunity Zones ("QOZs") to provide potentially significant tax benefits to investors who re-invest capital gains into long-term investments into communities designated for economic development.
There are over 8,500 QOZs across all US states, Washington DC, and Puerto Rico. They offer investors the ability to positively impact communities struggling to attract capital to generate sustainable economic opportunity for their communities.
QUALIFIED OPPORTUNITY ZONE FUNDS
A Qualified Opportunity Zone Fund ("QOF") is an investment vehicle which is organized as a corporation or partnership for the purpose of investing (at least 90% of its assets) in qualified opportunity zone assets or businesses.
A qualified opportunity zone asset/property can be (so long as acquired after December 31,2017):
Stock in a domestic corporation that is a QOZ business.
Any capital or profits interest in a domestic Partnership that is a QOZ business. Tangible asset used in the trade or business of a QOZ business, where the QOF substantially improves the asset..
QOZF BENEFITS TO THE TAXPAYER / INVESTOR
Taxpayers may defer paying tax on capital gains, if such capital gains are invested in a QOF, within 180 days from the gain. The deferral period ends the earlier of when the taxpayer sells its interest in the QOF or December 20, 2026.
Investments held for 5 years prior to December 31, 2026 will also qualify for a 10% increase in the tax-payer's tax basis of the amount of the deferred gain. Any taxpayer that holds its investment for a minimum of 10 years, can achieve no capital gain tax on the appreciation of its investment.
MAJESTY GAYLE Owner & Fund Manager
Majesty began his career in 2006 as franchisee of PostNet, a printing and shipping company. In 2011, Majesty launched Elite Autos of Atlanta, a prominent auto dealership, which he sold after 5 years in 2016. Soon after that Majesty founded PrivateCoin consulting service, specializing in crypto currency. This firm flourished right from the start, which inspired Majesty to write a book on the digital currency market - 'Becoming Bitcoin: Why You Need Bitcoin'.
Majesty founded IRP Builders in 2017, a real estate development firm. In its infancy, the company generated $1.5M in revenue in just 12 months. Majesty started the business working with local investors in Metro Atlanta. He has since expanded IRP Builders to construct assemblages, renovate distressed properties and build multifamily developments. IRP includes a vast network of real estate professionals, investors, and students. The millennial CEO mentors hundreds of "Deal Masters" across the United States on how to secure financial freedom using real estate.
ELIZE GAYLE Owner & Fund Manager
Elize began her professional marketing career at the age of 18 as a journalist for women's lifestyle blog, AskMissA.com. Throughout her collegiate career, she worked as an intern at the Tennessee Lottery Corporation, McNeely Pigott & Fox PR Firm, The Buntin Group Ad Agency, Operation Stand Down Nashville and more. Some notable accounts she worked on include clients like, Amazon, Skanska, Job Corps and Disney on Ice.
After completing her B.S. in Integrated Marketing Communications from Tennessee State University, Elize' began working for Nashville Metro Government Overseeing marketing efforts over multiple regions of the Nashville Career Advancement Center. Elize' then started a women's empowerment organization "Be Naturally Successful". BNS has over 20 chapters in the United States and Brand Ambassadors globally.
Upon moving to Atlanta, GA, Elize served as head of marketing for the Accreditation Commission for Education in Nursing, where she worked with Global leader in communications, Edelman. She then completed her Master of Business Administration with a focus on Marketing and left corporate America to pursue entrepreneurship with her husband, Majesty.
THE FINANCIALS TERMS
Status: Open to Accredited Investors
Type of Fund: Membership Units Asset
Classification: Real Estate
Active Potential Investments: 2
Fund Administration: OZ Invested
Anticipated Returns: 20%+
Round: A $ 20M Max Offering
TARGET: $ 250M Offering.
Minimum: Investment $50K Subscription
Start Investing Today: (404) 793-2377 | info@evoopportunityfund.com | https://www.evoopportunityfund.com
DISCLAIMER.
This media presentation is being provided to a limited number of recipients. This presentation is not an offer to sell to any parties, or a solicitation to any parties to buy interests in Evo Opportunity Fund, LLC or the projects described herein. This presentation is not intended to provide, and should not be relied upon for, accounting, legal or tax advice and does not constitute an offer to sell or invitation to purchase and does not constitute any form of commitment or recommendation on the part of Evo Opportunity Fund, LLC. Nothing herein shall be taken as constituting the giving of investment advice and this presentation is not intended to provide advice and must not be taken as such.
This presentation contains forward-looking statements that are based on the beliefs and assumptions of the management team of Evo Opportunity Fund, LLC, and on information currently available to the management team. These forward-looking statements are subject to numerous risks and uncertainties, many of which are beyond Evo Opportunity Fund's control. All statements, other than statements of historical fact, contained in this presentation, including statements regarding future events, future financial performance, business strategy and plans, and objectives of the Fund for future operations, are forward-looking statements. These statements are only predictions and involve known and unknown risks, uncertainties, and other factors, which may cause the actual results, levels of activity, performance, or achievements of the Fund to be materially different from any future results, levels of activity, performance or achievements expressed or implied by these forward-looking statements. You should not place undue reliance on any forward-looking statement. Evo Opportunity Fund, LLC undertakes no obligation to update or revise publicly any of the forward-looking statements after the date hereof to conform the statements of actual results or changed expectations.
Any offering of securities will only be made by means of a private placement offering exempt from registration with the U.S. Securities Exchange Commission and state and Commonwealth securities regulatory agencies to a limited number of investors meeting certain eligibility criteria set forth in the private placement memorandum, which will describe the risks and benefits of such securities. This presentation shall not constitute an offer to sell or the solicitation of an offer to buy any securities.