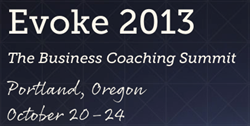 Ashland, Ore. (PRWEB) August 07, 2013
The business coaching industry is on the rise, with coaches worldwide generating approximately $2 billion in annual revenue according to a recent study from the International Coach Federation. However, the industry faces many obstacles including untrained, self-proclaimed coaches and low awareness about the benefits of coaching. To help address these issues, EMyth, the global leader in transformational business coaching, is hosting Evoke 2013: The Business Coaching Summit (http://emyth.com/business-coaching-summit/), a four-day intensive education and training event for current and aspiring business coaches. Scheduled for Sunday, October 20 through Wednesday, October 23 at the Portland Marriott Downtown Waterfront hotel, EMyth's Evoke 2013 attendees will benefit from inspirational presentations as well as hands-on workshops and direct feedback. EMyth's Evoke 2013 will also feature multiple guest speakers including a keynote presentation from John Warrillow, author of the best-selling business book "Built To Sell: Creating a Business That Can Thrive Without You".
"Small businesses are the lifeblood of a country's economy, and business coaching plays an important role in supporting their growth," said Jonathan Raymond, chief brand officer at EMyth. "But ironically, there's little support for business coaches themselves. We created the Evoke Business Coaching Summit to give coaches powerful new tools from the EMyth curriculum, in combination with fresh insights and direct feedback from our trainers and guest speakers, to help them develop their business and serve their clients more effectively."
Tapping its 35 years of hands-on client experience, EMyth has stacked the Evoke 2013 event agenda with an abundance of inspirational talks, interactive coaching labs and peer-driven discussions. Featured sessions (presentations and coaching labs) include:
What's The Real Reason This Business Is Stuck?

Learn to diagnose the nine universal leadership themes that are the cause of all business dysfunction leveraging EMyth's "Dysfunctional Business Themes" in combination with case studies and client examples.
Helping Leaders Lead and Managers Manage

Teaches coaches how to effectively confront issues in themselves and their clients using EMyth's "Transforming Frustrations Into Systems", a powerful tool designed to solve client problems and teach them to create the right systems first.
How Do You Sell Change?

Learn to apply EMyth's "Five Emotional Benchmarks" in sales conversations to meet prospective clients where they are with the solutions they need. EMyth's senior sales trainers provide direct guidance on sales plans and approaches via practice sessions.
EMyth's Evoke 2013 will also feature a keynote presentation by John Warrillow, author of the bestselling book "Built to Sell: Creating a Business That Can Thrive Without You," which was recognized by both Fortune and Inc. magazines as one of the best business books of 2011. Warrillow's keynote presentation, entitled "The Keys To Building A Scalable And Sellable Coaching Practice," will discuss the key tenets of his book and specifically how they apply to independent business coaches to help them create a profitable, scalable business that provides continued flexibility and freedom, as well as how to unlock that scalability and profitability when it's time to sell.
"Most entrepreneurs – business coaches included – start their business to gain freedom and invest themselves into a craft that's personally, professionally and financially rewarding. Unfortunately, they often create a business that can't survive without them," said Warrillow. "I'm delighted to participate in EMyth's Evoke 2013 Business Coaching Summit as it's a great opportunity for business coaches to learn how they can more effectively grow their business and ensure it thrives."
About EMyth
EMyth is the global leader in transformational business coaching. EMyth has inspired more than seven million business owners through its best-selling book and has coached more than 70,000 to become better leaders, systematize their business and simultaneously find ownership and meaning in their work. Grounded in 35 years of hands-on client experience, EMyth helps small and midsize businesses grow through a comprehensive business coaching curriculum available through a cloud-based platform and personal, hands-on guidance with a certified coach. For more information about EMyth, please visit emyth.com.