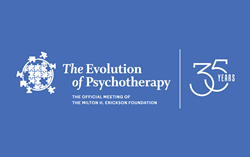 We are honored to have such a revolutionary mind as Noam Chomsky contribute to our educational experience.
MALVERN, Pa. (PRWEB) March 03, 2020
The Evolution of Psychotherapy Conference, the official meeting of the Milton H. Erickson Foundation, today announced that Noam Chomsky, "the father of modern linguistics," will participate in a live video interview as part of the opening keynote session. The keynote will kick off the first day of the five-day meeting scheduled for December 9–13, 2020, in Anaheim, California.
An American theoretical linguist, Chomsky's work revolutionized the field of linguistics by treating language as a uniquely human, biologically based cognitive capacity. His contributions to the field of cognitive psychology and the philosophies of mind and language helped initiate and sustain what became known as the "cognitive revolution."
The interview-style session will be led by Dr. Jeffrey Zeig, director and founder of the Milton H. Erickson Foundation. Dr. Zeig will engage Chomsky in a discussion of how therapists can harness linguistics to become better communicators in order to improve patient relationships, understanding, and care.
"We are honored to have such a revolutionary mind as Noam Chomsky contribute to our educational experience," said Dr. Zeig. "Noam has been the most-requested speaker for our conference for decades, and it is particularly special that he has chosen to join us for our 35-year anniversary meeting, which also coincides with the 135th anniversary of the practice of psychotherapy. This will truly be a once-in-a-lifetime experience for our attendees."
Dubbed "the Woodstock of Psychotherapy" by TIME, the Evolution of Psychotherapy meeting is expected to attract 8,000 professionals from around the world who include clinical and counseling psychologists, psychiatrists, and marriage and family counselors. The meeting agenda is focused on strengthening clinical practice and highlighting the unifying principles that guide effective clinical work.
Participants in the 2020 meeting will gain insight from 50 expert faculty and 10 keynoters, each considered trailblazers in their field, and have the ability to earn up to 50 CE/CME credits.
To register for Evolution of Psychotherapy 2020 or to learn more, visit evolutionofpsychotherapy.com.
For press access and media inquiries, contact Kelly McCurdy at pr@hmpglobal.com.
About HMP
HMP is the force behind Healthcare Made Practical—and is a multichannel leader in healthcare events and education, with a mission to improve patient care. The company produces accredited medical education events and clinically relevant, evidence-based content for the global healthcare community across a range of therapeutic areas. Its brands include Consultant360, the year-round, award-winning platform relied upon by primary care providers and other specialists; Psych Congress, the largest independent mental health meeting in the U.S.; EMS World Expo, North America's largest EMT and paramedic event; and the Symposium on Advanced Wound Care (SAWC), the largest wound care meeting in the world. For more information, visit hmpglobal.com.
About The Milton H. Erickson Foundation
Established in 1979, the Milton H. Erickson Foundation is a federal nonprofit corporation formed to promote and advance the contributions to the health sciences by the late Milton H. Erickson, MD. It has grown to become one of the most globally recognized and influential organizations in the field of psychotherapy and fulfills its mission through the organization of congresses, workshops, programs, and the development of clinically relevant content for mental health professionals. For more information, visit erickson-foundation.org.