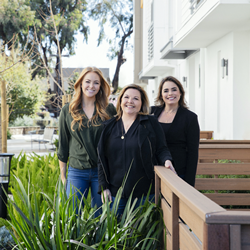 "Since the beginning of my career, I have centered my business around serving my clients at the highest level. Side's superior marketing, technology, administrative, and legal services are a real game-changer for Evolve."
CASTRO VALLEY, Calif. (PRWEB) June 04, 2020
Evolve Real Estate today announced its partnership with Side, the only real estate brokerage that exclusively partners with high-performing agents, teams, and independent brokerages to transform them into boutique brands and businesses. Side will provide Evolve Real Estate with cutting-edge technology that helps them reach more East Bay clients with their empathetic, dedicated service.
Evolve's leader, Leslie Peterson, has been a top-producer since 2005 and has led the highest-grossing team in Castro Valley since 2016. Based in Castro Valley, but serving Hayward, San Leandro, San Lorenzo, Dublin, Pleasanton, and the entire East Bay, the team's deep expertise is evidenced by its many certifications, which include Graduate Realtor Institute designation, Certified Residential Specialist, Certified Negotiation Specialist, Accredited Seller's Representative, Certified Distressed Property Expert, and Certified Luxury Home Marketing Specialist (CLHMS).
Partnering with Side will ensure Evolve Real Estate remains at the cutting edge of a rapidly shifting real estate market while allowing its agents to continue delivering top-of-the-line services to their clients. Evolve Real Estate agents are fully supported by a premium brokerage platform, which provides transaction management, property marketing, lead generation, business growth opportunities, vendor management, and infrastructure solutions.
"Since the beginning of my career, I have centered my business around serving my clients at the highest level," says Peterson. "Side's superior marketing, technology, administrative, and legal services are a real game-changer for Evolve. Partnering with them will allow us to continue leading the evolution of real estate."
Side is led by experienced industry professionals and world-class engineers who develop technology designed to improve agent productivity and enhance the client experience. Based on its belief that homeownership is a fundamental human right, Side is on a mission to improve the public good by providing top-performing agents with the best real estate service, experience, and results. Launched in 2017, Side now powers over 700 real estate agents from the top 2% of the industry's top producing teams.
About Evolve Real Estate
Evolve Real Estate uses a combination of empathy, industry insight, and competitive marketing strategies to ensure that their clients' next steps propel them forward toward bigger goals and dreams. Evolve's love of negotiating the best prices and solving complex problems creates seamless, rewarding transactions, and they work tirelessly on their clients' behalf from day one. The evolution of real estate is here, and Evolve Real Estate is leading the way. Learn more at http://www.evolvereca.com/.
About Side
Side transforms high-performing agents, teams, and independent brokerages into successful businesses and boutique brands that are 100% agent-owned. Side exclusively partners with the best agents, empowering them with proprietary technology and a premier support team so they can be more productive, grow their business, and focus on serving their clients. Side is headquartered in San Francisco. For more information, visit http://www.sideinc.com.