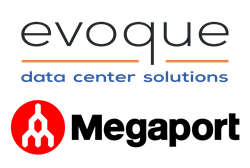 DALLAS (PRWEB) May 27, 2020
Evoque Data Center Solutions™, a global colocation services company, in partnership with Megaport, a global leading Network as a Service (NaaS) provider, are pleased to announce that several new markets have been enabled with cloud interconnection capabilities, bringing the total number of Evoque data centers where Megaport is available to 11. This expansion was driven by enterprise clients' need to simplify their IT processes while accessing multiple cloud providers as part of today's over-arching IT strategies. Evoque and Megaport remain committed to providing Megaport's services across Evoque Data Center locations, giving our customers access to colocation, cloud, and connectivity services.
Megaport services will soon be available in these three additional Evoque data center locations:

Lynnwood, WA
San Jose, CA
Watertown, MA
These locations join several Evoque data centers that currently feature Megaport's cloud connectivity solutions:
Allen, TX
Ashburn, VA
Irvine, CA
Lisle, IL
Lithia Springs, GA
Mesa, AZ
Piscataway, NJ
Redditch (Birmingham), United Kingdom
The inclusion of Megaport's Software Defined Network (SDN) services into these markets provides multi-cloud connectivity and point-to-point network connectivity to all Evoque customers in these markets. Utilizing Megaport's services within Evoque's facilities enables clients to create customized hybrid data solutions by connecting to multiple cloud providers on an as-needed basis.
The Evoque and Megaport partnership provides customers with:
Choice: Direct private access to an industry-leading 171 cloud on-ramps and over on-net locations
Security and Performance: Reliable, direct, private connections that bypass the public internet
Marketplace: A global ecosystem of more than 350 service providers, including Alibaba, AWS, Google Cloud, IBM Cloud, Microsoft Azure, Nutanix, Oracle Cloud, Salesforce, and SAP
Ease-of-Use: Enable hybrid cloud, multi-cloud, and cloud-to-cloud architectures via point-and-click provisioning with the intelligent Megaport Cloud Router
Performance: Localize applications and terminate traffic closer to the edge where performance matters
Scalability: Elastic connectivity supports business needs and aligns to cloud consumption models
"This is an exciting addition for our current and future customers who utilize Evoque's data centers across the country," said Anthony Verda, Vice President of Network Service Providers at Evoque Data Center Solutions™. "Evoque customers have been requesting Megaport services out of these facilities, allowing them to have easy access to cloud on-ramp options, public cloud, as well as interconnectivity between sites on Megaport's network. We're happy to be able to meet their needs."
Megaport is focused on making connectivity fast, flexible, and easy through its Network as a Service platform. Through Megaport, Evoque Data Center Solutions™ customers have direct access to the broadest set of cloud on-ramps globally, including popular cloud service providers such as Amazon Web Services, Microsoft Azure, Google Cloud, IBM Cloud, Salesforce, and many others.
"We are pleased to grow our partnership with Evoque Data Center Solutions™," said Peter Hase, Chief Commercial Officer at Megaport. "Their strong enterprise-focused data center service offerings align perfectly with Megaport services to provide a secure, highly-available, well connected location to enable their customers' IT infrastructure. Our expansion to additional Evoque locations will support more businesses as they undergo their digital transformation in key markets and provide them low-latency access to the services they need while keeping their valuable IT resources local."
Evoque clients interested in Megaport services should contact their sales representative, or the Evoque Help Desk, where Megaport has a specific resource team ready to help utilize the Cloud Connectivity solutions, powered by Megaport.
For more information, visit https://www.evoquedcs.com/megaport/.
About Evoque Data Center Solutions™
Evoque Data Center Solutions™, headquartered in Dallas, Texas, is a colocation services company that owns and operates 31 data centers across four continents, 11 countries and 25 Markets. Evoque Data Center Solutions™ offers clients a secure space in a highly available and redundant environment. The company supports a diversified base of colocation customers across multiple segments, including utilities, transport, energy, communications, healthcare, and technologies. For more information, please visit our website at https://www.evoquedcs.com/.
Evoque Data Center Solutions™ is a portfolio company of Brookfield Infrastructure Partners, a leading global infrastructure asset manager that owns and operates high-quality, long-life assets in the utilities, transport, energy and data infrastructure sectors across North and South America, Asia Pacific and Europe.
About Megaport
Megaport is a global leading Network as a Service provider. Using Software Defined Networking (SDN), the Company's global platform enables customers to rapidly connect their network to other services across the Megaport Network. Services can be directly controlled by customers via mobile devices, their computer, or our open API. Megaport connects more than 1,777 customers in 601 enabled data centres globally. Megaport is an Alibaba Cloud Technology Partner, AWS Technology Partner, AWS Networking Competency Partner, Google Cloud Interconnect Partner, IBM Direct Link Cloud Exchange provider, Microsoft Azure Express Route Partner, Nutanix Direct Connect Partner, Oracle Cloud Partner, Salesforce Express Connect Partner, and SAP PartnerEdge Open Ecosystem Partner.