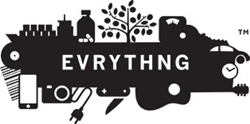 "Our partnership with EVRYTHNG brings a new dynamic to the way consumer brands in the region run their businesses," said David Inbar, CEO, Minet Technologies. "Together we're helping brands connect the dots between full visibility into their supply chains and the use of real-time consumer data."
RAMAT-GAN AND LONDON (PRWEB) September 15, 2020
EVRYTHNG, the Product Cloud managing digital identities for the world's consumer products, today announced it has partnered with Minet Technologies, Israel's procurement and supply chain leader, to bring the EVRYTHNG Product Cloud™ to consumer goods manufacturers and brands in the region. EVRYTHNG makes it possible for manufacturers and brands to deliver end-to-end supply chain visibility and transparency into every product's journey from the factory to the consumer to re-sale or recycle.
The first partnership of its kind in Israel, together EVRYTHNG and Minet Technologies offer Israeli consumer goods companies an end-to-end product identity solution for supply chain, product authenticity and marketing applications.
"To compete in today's global market, brands are digitizing their products at scale to gather data intelligence and meet consumer expectations for transparency, authenticity and personalized experiences," said Fabienne Le Tadic, president and managing director EMEA, EVRYTHNG. "Our partnership with Minet Technologies allows us to expand our reach into a very important market for consumer goods brands."
The Digital 'Switch-on' of the Consumer Products Industry
The EVRYTHNG Product Cloud™ allows consumer product brands to digitize products at scale. By giving every product a unique Active Digital Identity™ at the time of production, products are quite literally 'born digital.' Brands can collect and use data intelligence throughout the entire product lifecycle to gain end-to-end supply chain visibility, operational agility and resilience at scale.
To bring the massive impact of product digitization to the forefront, EVRYTHNG co-chaired the GS1 standards development process that yielded GS1 Digital Link and was the first platform to allow consumer product brands to digitize products at scale. GS1 Digital Link upgrades the ubiquitous barcode used by two million manufacturers on more than 4-trillion product items per annum, so that every product item can now be smartphone-interactive, transact with point-of-sale systems and connect to the web — all with one code on the product.
For example, the world's largest producer of Atlantic salmon, MOWI and EVRYTHNG rolled out the first mass-scale application of the new GS1 Digital Link standard.The end-to-end food traceability platform delivers full visibility into the provenance of salmon bought and consumed by customers worldwide. In a world where trust is a defining commodity, the level of transparency MOWI has achieved will fast become the new normal for every consumer product.
In the apparel industry, global leader Ralph Lauren partnered with EVRYTHNG to connect its full product portfolio to the web — assigning each product item a unique digital identity in the EVRYTHNG Product Cloud™. The scale, depth and ubiquity of Ralph Lauren's product digitization strategy are groundbreaking.
Most recently, EVRYTHNG announced a global partnership with HP to provide HP's printing, packaging and enterprise customers, including CPG brands, authentication, end-to-end traceability and dynamic consumer engagement capabilities.
"Brands that apply dynamic data-driven intelligence to their operations are able to achieve more resilient operations, with the agility to respond to changing channels and customer needs," said Le Tadic.
"Our partnership with EVRYTHNG will bring a whole new dynamic to the way consumer goods brands in the region do business," said David Inbar, CEO and Founder, Minet Technologies. "Together we are helping brands connect the dots between full visibility into their supply chains and the use of real-time consumer data analytics. As a result, brands can be highly responsive to market shifts while gaining a mechanism to scale dynamic direct consumer engagements across a complex set of product lines, brands, markets and channels."
To learn more about how EVRYTHNG and Minet Technologies might help your brand with its product digitization and supply chain needs please visit us at this link.
About Minet Technologies
Minet Technologies is a leading provider of innovative procurement and supply chain solutions. Our solutions include systems for the digital supply chain, procurement and planning outsourcing, procurement data analytics, cost management, supply chain optimization and projects and consulting. We work with customers from Fortune 100 companies to start-ups. Our customers gain competitive advantage and run faster than their competitors with our proprietary methodologies and tools. For more information, visit http://www.minet.co.il
About EVRYTHNG
The EVRYTHNG Product Cloud™ helps the world's consumer product brands run their businesses with data-driven intelligence through the digitization of products at scale and the use of data generated by those products. With EVRYTHNG, global consumer brands in sectors ranging from apparel, beauty, and personal care, to home goods, food and beverages can now know what their products know™. EVRYTHNG's customers see and learn from each product's journey from factory to consumer. EVRYTHNG helps businesses use this information to operate with more agility and integrity, and gather and apply real-time data intelligence. EVRYTHNG is a World Economic Forum Global Innovator and Technology Pioneer, originated the technology driving the GS1 Digital Link global barcode upgrade and won Fast Company's World Changing Ideas Award for most impactful change driver for the consumer products category. Learn more at EVRYTHNG.com and @EVRYTHNG.