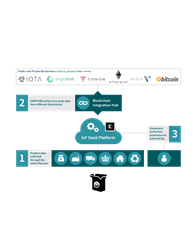 "We are excited to announce a strategic partnership with IOTA, a totally different kind of distributed ledger technology, specifically targeted at the IoT industry. Together we are creating new opportunities for consumer product brands," said Dominique Guinard, Co-founder & CTO, EVRYTHNG.
NEW YORK and LONDON (PRWEB) April 17, 2019
EVRYTHNG, the IoT platform that activates every consumer product to make it intelligent, interactive and trackable, today announced the expansion of its EVRYTHNG Blockchain Integration Hub to include integrations with IOTA, a non-profit foundation focused on distributed ledger technology (DLT) and permissionless ecosystem development. As a result of this partnership, consumer product brands now have an easy way to rapidly test, scale and deploy IoT applications to deliver transparency and provenance to customers while sharing real-time data between supply chain partners.
"We are celebrating the one-year anniversary of our EVRYTHNG Blockchain Integration Hub," said Dominique Guinard, Co-founder and CTO, EVRYTHNG. "Over the past year, not only have we created powerful integrations with some of the most recognized blockchains in the world including, OriginTrail, Tierion, BLOCKv, Bitcoin and Ethereum but, we've launched real-world applications with the technology. This is why we are so excited to announce a strategic partnership with IOTA, a totally different kind of distributed ledger technology, specifically targeted at the IoT industry -- opening new opportunities for consumer product brands."
According to a recent study by Deloitte, 42 percent of consumer products and manufacturing executives plan to invest at least $5 million in blockchain technology over the next year. IoT applications will account for a significant percentage of this investment in the form of:

consumer - improving and protecting the consumer experience
supply-chain - improving process efficiencies across the supply chain
While the consumer products industry is well positioned to benefit from the opportunities blockchain and DLT afford, industry first-movers must first overcome several challenges:

high costs associated with testing blockchain/DLT platforms to determine the - best fit and solution maturity;
complexity in implementation; and
limited inhouse expertise
The EVRYTHNG Blockchain Integration Hub helps brands simply and cost-effectively assess which blockchain and DLT solutions and capabilities are most appropriate for their business and then, rapidly deploy.
Why IOTA?
IOTA brings a whole new dimension to the EVRYTHNG Blockchain Integration Hub. As with other EVRYTHNG hub connectors, the IOTA integration allows consumer product brands to experiment with emerging DLT capabilities while relying on the scalability, interoperability and maturity of the EVRYTHNG platform. With IOTA's unique distributed ledger technology, people and machines can securely transfer data or payments without transaction fees in a trusted, permissionless, and decentralized environment.

Authenticity - consumer products can be traced through the supply chain from sourcing to manufacturer to retailer to consumer -- proving authenticity of products; reducing risk of counterfeiting; and creating trust among consumers
Traceability & Provenance - drives business value for brands through end-to-end supply-chain traceability; greater supply chain visibility also benefits consumers in the form of safer and more transparent products as well as higher quality
Supply Chain Control - facilitates real-time data sharing between supply chain partners, combining the benefits of distributed ledger technology -- global collaboration, reliability, auditability -- while assuring only authorized parties gain access to unencrypted data
"IOTA's distributed ledger technology moves beyond blockchain by enabling secure, feeless, data transfer and payments to advance IoT. Due to the nature of the supply chain and its lack of transparency and trust, IOTA's Tangle technology is uniquely positioned to address these challenges. This partnership with EVRYTHNG clearly demonstrates how both consumer brands and their customers can benefit from greater transparency in the sourcing and manufacturing of consumer products," said Holger Köther, director of partnerships, IOTA Foundation.
"We believe IOTA will be the public and permissionless backbone protocol for the IoT that creates true interoperability between all things and devices," said Guinard. "This is critical in a world of mass-scale product digitization where over two billion smartphones can now access and share information via a single on-pack code."
Year-One Milestones
Since launching the EVRYTHNG Blockchain Integration Hub in June 2018:

EVRYTHNG has formed four critical partnerships with blockchain and DLT leaders -- OriginTrail, Tierion, BLOCKv, and IOTA. These partners are actively using the EVRYTHNG hub to integrate blockchain-enabled solutions with digitized consumer products.
Using the EVRYTHNG hub, Almond launched Fact, an organic flavored water with a first of its kind blockchain-connected solution for the food and beverage industry, powered by EVRYTHNG.
EVRYTHNG was asked to join the Blockchain Research Institute (BRI) to lead research on the impact of blockchain and DLT on IoT. The result of this research was published in an objective BRI report looking at opportunities, strengths and challenges of the blockchain for IoT.
EVRYTHNG Co-founder and CTO, Dom Guinard was invited to sit on the World Economic Forum's Blockchain Working Group -- chartered with designing a framework to guide decision-making towards inclusivity, interoperability, and integrity in the use of distributed ledger and blockchain technology for global trade and supply chains. The first output of this group was just released in this whitepaper.
Available Now
The code for the EVRYTHNG Blockchain Integration Hub integration with IOTA is open sourced on Github and full documentation is now available on the EVRYTHNG developer hub.
For more information about IOTA in the supply chain visit: http://iota.org/supplychain
About EVRYTHNG
EVRYTHNG is the market leading internet of things SaaS platform for consumer products, managing billions of unique digital identities in the cloud. Brands and their service providers work with EVRYTHNG to apply data science intelligence on an item-by-item basis, drive new digital applications, gain visibility into supply chains, and engage with their customers. EVRYTHNG led the creation of the new GS1 industry standards that have upgraded the world's barcodes and product tags to connect every product to the Web. Learn more at: https://evrythng.com and @EVRYTHNG.