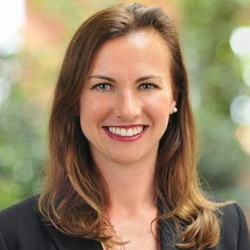 "With over a decade of experience leading complex and strategic initiatives, Kirsten Curtis has taken on significant challenges and overcome them," commented Larraine Segil, Chair and CEO of The Exceptional Women Awardees Foundation
LOS ANGELES (PRWEB) January 28, 2020
The Exceptional Women Awardees Foundation (EWA, Los Angeles CA) today announced that after interviews with multiple candidates Kirsten Curtis, COO of Redacted, has been selected to participate in their Cohort of Women Leaders in the January 2020 EWA Program.
With over a decade of experience leading complex and strategic initiatives, Kirsten Curtis' career journey has not been a straight path. She has taken on significant challenges and overcome them especially in the Supply Chain arena, then moving into senior leadership in complex operations and from there into Private Equity," commented Larraine Segil, Chair and CEO of The Exceptional Women Awardees Foundation. " Her new challenge is with a portfolio company, where her role is to leverage on the existing technology and company talents to add value, transforming the company into a growth engine. We are delighted to welcome her into EWA, to provide her with the insights and support that our network of over 35 industry leaders can offer."
'Redacted' causes attackers to feel the consequences, both technically and legally, of their actions. They do this work because they know it's the right thing to do. They do it because nobody else is willing or able to do it. Every outcome of their engagements is a reflection of their collective goal to empower customers to proactively defend against an attacker. They recognize that in cyber security one solution does not fit all. They collaborate with the customer to prioritize their business needs to ensure that the customer succeeds with the most relevant security controls. Doing the right thing is in their history. Empowering their clients is in their DNA.
Learn more at https://www.redacted.com/
The Exceptional Women Awardees Foundation (EWA) selects high potential, upper-career Exceptional Women from multiple industries, develops and mentors them with guidance and career redesign advice to propel them to sustainable success - one woman at a time. Their year-long program enables the EWA to be connected for life to their ever-expanding EWA global network, as their fellow women leaders move into positions of significance.
Learn more at The Exceptional Women Awardees Foundation http://www.ExceptionalWomenAwardees.com