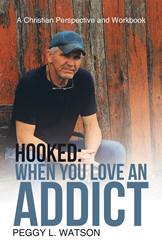 MCMINNVILLE, Tenn. (PRWEB) January 14, 2019
In 1994, author Peggy Watson discovered her husband was an addict and began to look for books to help her through her tough time—but found none. So, she wrote her own book, using her experience to help the loved ones of addicts learn about and overcome the effects their loved one's addiction can have on the family.
Entitled "Hooked: When You Love an Addict: A Christian Perspective and Workbook," the book covers Watson's husband Lonnie as he drifts through the 90's as a highly functioning addict. As the owner of a promotion company with dozens of clients, Lonnie was a stark contrast to the common stereotype of addicts living in poverty. However, his addiction was detrimental to all the wealth, success and family life he'd built.
As Watson continued to write about her experiences, a friend read the thoughts she wrote down and suggested other people may need Watson's tips and revelations. This is how "Hooked" was born."
"Everything I'd found on addiction focused on helping the addict overcome the illness," Watson said. "But where was my help? Was there any advice for me? I felt like I was drowning."
Readers, especially those currently or previously affected by an addict in their lives, will appreciate the personal and honest take Peggy offers in the book and be able to take comfort in the Scripture, tips and insight provided in the book.
"Hooked: When You Love an Addict: A Christian Perspective and Workbook"
By Peggy L. Watson
ISBN: 978-1512789478 (softcover); 978-1512789492 (hardcover); 978-1512789485 (electronic)
Available at the WestBow Press Online Bookstore and Amazon
About the author
Peggy L. Watson earned a Bachelor of Science degree from Middle Tennessee State University with distinction in university honors. Drawing from scripture as well as her own experiences with her husband, who was once addicted to crack cocaine, she has been offering sage advice to the family members of addicts since 2000. Peggy and her husband currently live in Middle Tennessee.
Contact:
LAVIDGE – Phoenix
Kalin Thomas
480-648-7540
kthomas(at)lavidge(dot)com
###