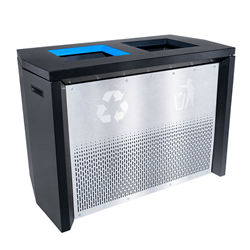 "...Ex-Cell's Coliseum is designed for use in public, high traffic venues such as stadiums, convention centers, airports, etc." Anna Cosentino VP Sales and Marketing
FRANKLIN PARK, Ill. (PRWEB) November 06, 2018
In 2019, Ex-Cell Kaiser will announce the new Coliseum Recycling Station.
The concept behind the design of the Coliseum was a desire to combine industrial elements (exposed fasteners, etc.) with a sleek, modern design. The finished product is a truly striking design that will compliment any décor.
A durable powder coated body makes up the structure of the unit and a stainless steel front panel with decorative perforations creates visual interest.
The Coliseum brings offers more than just visual appeal. A functional 68 gallon capacity (two 34 gallon rigid plastic liners) makes the unit ideal for high traffic areas. Two 12" color coded square openings and ghosted universal TRASH and RECYCLING graphics make waste stream identification simple. A hinged lid with soft close shocks makes servicing the unit hassle-free.
The Coliseum is available with two standard textured, powder coated lid colors bodies: pebble black gloss and hammered grey. As with all Ex-Cell Kaiser products, custom colors and graphics are available.
Ex-Cell Kaiser combines 85 years of experience, the shortest lead times in the industry, competitive pricing and an unmatched ability to customize any receptacle. We are listening to the marketplace and responding with new products that meet the needs and wants of customers.
"Ex-Cell's Coliseum recycling station epitomizes the beautiful exchange between form and function by providing customers with a receptacle that marries the utilitarian, laser cut stainless steel front panel and exposed hardware with the modern lines and durable powder coat finish options on the body. Just as a true coliseum is 'a large sports stadium or building designed for public entertainments', Ex-Cell's Coliseum is designed for use in public, high traffic venues such as stadiums, convention centers, airports, etc.," said Anna Cosentino, VP of Sales and Marketing at Ex-Cell Kaiser.
The complete collection of recycling receptacles is available for order on-line at http://www.ex-cell.com
ABOUT EX-CELL
Located in Franklin Park, IL, Ex-Cell Kaiser LLC is a woman owned company with over 85 years of experience. Ex-Cell makes it their mission to help your organization go green by supplying receptacles that fit your style and sustainability needs. At Ex-Cell Kaiser they can customize almost any of their products with your colors and graphics to make your receptacles a great investment. Ex-Cell Kaiser continues to be one of the leading manufacturers in the USA specializing in branded solutions, contract manufacturing, and custom designs for recycling and trash receptacles, Smokers' Oasis™, hospitality products, and maintenance solutions for facilities, municipalities and organizations alike.
Contact Information:
Steve Kostal
Ex-Cell Kaiser LLC
http://www.ex-cell.com
(847) 451-0599