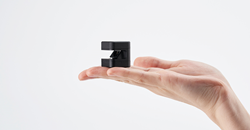 GLAMOS works by creating a motion-sensing field by rapidly firing a laser at a constantly rotating mirror. The device makes detections at the rate of 40 times per second, allowing users to register everything from swift swipes and quick taps with a great deal of accuracy.
SEOUL, South Korea (PRWEB) January 31, 2020
After spending several years as a product engineer at Samsung, Charles Lee founded a small tech startup and eventually developed GLAMOS, a device that uses LiDAR technology to project an invisible 2D touch screen so that digital screens can be transformed into touch screens.
In order to raise funds to officially launch his product, Charles and his team decided to collaborate with Altos Business Group, a global product launch agency and create a Kickstarter campaign. The project has turned out to be a huge success. In less than 2 weeks, GLAMOS has received more than $150,000 in funding from 968 backers. Multiple Kickstarter campaign trackings have projected the campaign to come close to or surpass $1 million by the end of its funding period.
GLAMOS can be used in a multitude of ways. The most popular uses from its product test phase have included the following:

Using gesture commands to control PowerPoint presentations
Turn non-touch screens into fully interactive touch screens
Control smart televisions with gesture commands from the couch
Using gesture commands to play smartphone games on the television
Prevent dirty hands from touching a device's screen while cooking or performing surgical procedures
As of now, super early bird and early bird discount rewards for GLAMOS are now all sold out. However, the campaign will continue to offer exclusive discounts for its basic tier Kickstarter backers. Any editors or influencers interested in receiving a sample to test out are encouraged to reach out to the GLAMOS team through their Kickstarter page.