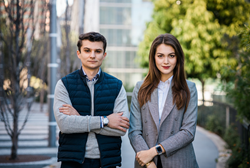 SAN FRANCISCO (PRWEB) September 01, 2021
Prive, an eCommerce subscriptions platform, founded by ex-Uber product managers Alex Craciun and Claudia Laurie, today announced that it has raised a $1.7M in pre-seed financing to launch the world's most configurable and intelligent subscriptions platform for D2C brands. The round was led by Xfund and Bling Capital, with participation from Defy Partners, Halogen Ventures, Base Case Capital, and current senior Uber executives.
Prive allows brands to set up sustainable recurring revenue in minutes and provides shoppers the most seamless purchase and management experience available. Prive provides easily configurable subscriptions (such as the ability to enable variable cadences, product swaps, and offers), alongside personalized incentives and actionable analytics to empower D2C businesses to build subscriptions that retain demand without one-size-fits-some rigidity. Prive selects the right products to be replenished, at the right cadence, with the right offer for shoppers, as well as first-in-class analytics and frictionless subscription management. Prive's customers are breakout digitally native eCommerce businesses from a wide range of verticals such as food and beverage, fashion and apparel, and beauty.
Shoppers are moving to purchase their favorite products on a recurring basis, while retailers want deeper relationships with their customers. There is now more opportunity for recurring transactions, but today's subscriptions are not built for today. For brands, subscriptions are cumbersome to set up. They are opaque in understanding product performance, customer cohorts, what to do with key business metrics such as churn, and incur substantial customer support costs. In addition, while shoppers might want the benefits of subscriptions, they tire of receiving the same product at cadences that don't work for them, coupled with frustrating account management. According to the Subscriptions Trade Association, 75% of eCommerce businesses will incorporate subscriptions by 2022. However, just being able to enable a subscription is no longer enough for businesses to build long term customer relationships and compete.
"At Xfund, we have been looking to back experienced teams building new SaaS tools that help enable the burgeoning ecommerce landscape, which now comprises nearly 20% of all retail transactions," said Brandon Farwell, Partner at Xfund.
"With Prive, sellers can create the subscriptions of their shopper's dreams easily. But setting up a subscription is just the start of the journey- sellers should be able to understand their shoppers on a personal level and provide them with incentives, substitutions, and other engagement levers based on their needs and behavior. Subscriptions is an incredibly hot buzzword in the D2C space, but without the correct tools, subscriptions can cause more headaches than they solve. Prive is here to break down the mental model of a rigid subscription and instead provide opportunities for any business to find sustainable recurring revenue," explains co-founder Alex Craciun.
About Prive
Prive is the world's most configurable and intelligent subscriptions platform, allowing recurring transactions to be made in seconds. Prive is building the next generation of subscription, pricing, and intelligence tools, helping D2C brands such as Margaux and Verishop merchants boost revenue, build relationships with their customers, and efficiently scale.