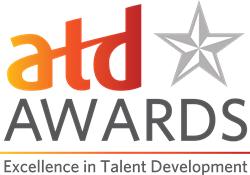 Winning organizations demonstrate how aligning talent development to business needs can increase the performance and success of organizations worldwide.
WASHINGTON (PRWEB) May 21, 2019
During its 2019 International Conference & Exposition held in Washington D.C., the Association for Talent Development (ATD) recognized organizations and individuals for their excellence and contributions across the talent development field. The event was held on May 20.
"ATD Award winners reflect a deep commitment to the value of developing people in the workplace. Winning organizations demonstrate how aligning talent development to business needs can increase the performance and success of organizations worldwide," said Tony Bingham, ATD President and CEO. "These winners' accomplishments advance knowledge in the talent development profession and contribute to increasing workforce capability and organizational competitiveness."
Individual honorees included:
ATD One to Watch Award (presented to individuals who are early in their careers):

Keith Lillico, Horace Mann Companies
Stacey Young Rivers, WarnerMedia
ATD Dissertation Award: Shinhee Jeong, PhD
Champion of Talent Development Award: Dan Pink, thought leader and bestselling author.
Distinguished Contribution to Talent Development Award: Karl Kapp, instructional technology graduate professor at Bloomsburg University.
On the organization side, ATD recognized Tyson Foods with the association's Innovation in Talent Development Award.
ATD also honored the 2018 Excellence in Practice Award winners, who were recognized for results achieved using practices and solutions from the scope of talent development. Sixty-two awards in 13 categories were presented to companies from 10 countries.
The categories include: career development, change management, coaching and mentoring, diversity and inclusion, improving soft skills, integrated talent management, learning and development, learning technologies, management/leadership development, managing the learning function, onboarding, performance improvement, and sales enablement.
Organizations that received an Excellence in Practice Award are:

Abbott Primary Care
Akamai Technologies
Alamo Colleges
Arizona Department of Administration
Avista Utilities
Bayer US
Booz Allen Hamilton
Brugmann University Hospital
China Fortune Land Development Co., Ltd.
China Post Group
China Telecommunications Corporation
Cisco
Cognizant Technology Solutions
Cordis, Hong Kong
Decent Gold Group Co. Ltd.
Defense Intelligence Agency
Dubai Police
Emirates Islamic
Express Employment Professionals
Farm Bureau Financial Services
Gilead Sciences, Inc.
Hang Lung Properties Limited
Hewlett Packard Enterprise
Hewlett Packard Enterprise Financial Services
Hongkong Post
Infosys Limited
Inner Mongolia Yili Industrial Group Co., Ltd.
JetBlue
Kotak Mahindra Life Insurance Limited
Lake Trust Credit Union
Lee Kum Kee
Lincoln Motor Company
MetLife
Midea Group
Novartis Healthcare Pvt. Ltd.
Osram
Paysafe
Persistent Systems Ltd.
Ricoh USA, Inc.
SAP
Seldin Company
Shopify
Siam City Cement Public Company Limited
Sutter Health
UnitedHealthcare
Walmart
A complete list of Excellence in Practice award winners can be found on the ATD website.
About ATD
The Association for Talent Development (ATD), formerly ASTD, is the world's largest association dedicated to those who develop talent in organizations. These professionals help others achieve their full potential by improving their knowledge, skills, and abilities. ATD's members come from more than 120 countries and work in public and private organizations in every industry sector. ATD supports the work of professionals locally across 100 chapters, international strategic partners, and global member networks.