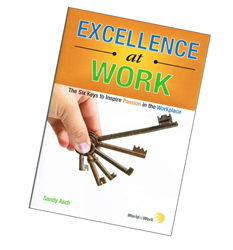 Excellence at Work is key to the success of our company's merger. It provides a common language and shared vision to bring our two teams together. - Sr. VP, Global Oil and Energy Services company
San Diego, CA (PRWEB) April 02, 2014
Forward thinking leaders are seeking ways to harness the full potential of their employees to gain competitive advantage and drive bottom line business results. The key to business growth and success for companies in all sectors is to activate employee engagement and enhance the quality of work life to build an employer of choice organization.
For more than 18 years, Alliance for Organizational Excellence LLC has delivered Excellence at Work, a leadership development program and transformation strategy to improve company bottom line results through increased morale and performance.
"Our clients report an 18% revenue increase, 78% profitability improvement, 60% higher retention, 14% better quality, multiple workplace excellence awards and Best Place to Work recognition." said Sandy Asch, principal of Alliance for Organizational Excellence LLC.
Excellence at Work establishes a set of ground rules, provides a common language and creates a shared vision and commitment to Excellence where employees are accountable for: impeccable communication; ownership; precise alignment; fully realized potential; healthy work-life balance and joy.
In her book, Excellence at Work: The Six Keys to Inspire Passion in the Workplace, Asch explains that a culture of Excellence is key to strengthening a company's reputation as an 'employer of choice' where top talent choose to work, choose to give their best and choose to stay.
Excellence at Work has been successfully implemented in 15 countries. Most recently, a global oil and energy service provider introduced the program to a 2,500 person sales organization as a means to ensure a successful merger. Implementation of Excellence at Work in the Latin America business unit has had positive impact on bottom line business results.
"Excellence at Work gives us a proven roadmap to become the supplier of choice and employer of choice in the Energy Services industry. The Spanish program enables me to align all 550 employees in Latin America to a common goal and shared vision for excellence. The results are tangible and most importantly have allowed us to create a genuine sense of team work, ownership and positive attitude at all levels." General Manager, Latin America.
Managers and leaders at all levels are seeking a practical framework to take their teams to the next level and boost performance and productivity. Excellence at Work offers a practical and effective structure to gain competitive advantage.
"Our management team used the Excellence at Work accountability tool to increase heavy oil production for a key client. The ROI was 99.3%. We anticipate our future contract with this client to increase significantly as a result of the value we provided." added the Latin America GM.
Alliance for Organizational Excellence LLC is a San Diego-based consulting company that partners with companies globally to build their reputation as employers of choice to attract, optimize and retain top talent. 20,000 leaders from more than 350 companies in 15 countries have implemented the Six Keys to Excellence.
If you would like more information about Excellence at Work, please contact Sandy Asch at 858.481.7742 or email sandy@uexcel.com. For information about Excellence at Work in Spanish contact Luisa F. Cicero at 630.999.6130 or email luisa(at)Uexcel(dot)com