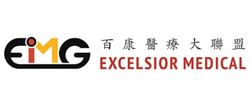 Dr. Henry Chen, CEO of Excelsior stated "We are delighted to welcome Dennis, Long and Solomon to the Excelsior team. Each of them brings unique strengths and complementary skill-sets which will serve us well as we continue to scale the company and transition to a value-based-care model."
NEW YORK (PRWEB) March 22, 2021
Excelsior Medical, a primary-care-focused healthcare company serving approximately 80,000 patients in dozens of locations throughout New York City, has announced the appointment of three new leaders to its executive team. Building on the strategic investment by Kain Capital Partners in 2020, Excelsior is strengthening its management ranks to accelerate its shift to a value-based-care model which allows it to provide higher quality care, at a lower cost, and with a better overall experience for both patients and providers.
Dennis Nesta joins Excelsior as Chief Financial Officer. A seasoned financial executive with experience at some of the country's largest healthcare organizations, Dennis most recently served as CFO of Aetna's Clinical Services organization, where he had financial oversight of utilization management and care management activities. Previously, he served as CFO of Aetna's New York and Florida Medicaid plans and as Regional CFO at ChenMed, a full-risk Medicare primary care provider. Dennis is a Chartered Financial Analyst (CFA) and obtained an MBA with a focus on Healthcare Management from the University of Connecticut. He said, "I'm thrilled to join such a high-performing team and build on the company's momentum and strong business fundamentals. I see tremendous potential for Excelsior to expand its value-based-care programs and dramatically increase value to shareholders and all stakeholders."
Long Thai joins Excelsior as Chief Analytics Officer. Long most recently worked as the Chief of Staff to the founder of ChenMed, where he supported the company's analytics team and network operations. Prior to ChenMed, Long spent over a decade at Kaiser Permanente working in various finance and analytics roles, including as Assistant CFO for Kaiser Permanente's Washington DC region, where he helped grow the region from 485,000 members to 775,000 members over a six-year period. Long has a passion for improving operational initiatives through analytics, and commented, "I'm excited to help this growing organization develop the tools and analytics to put the right information at the right time in the hands of right people, our providers and staff, to keep their primary focus on patients." Long holds a BS from Wesleyan and an MBA from the Haas School of Business.
Solomon Eskinazi joins Excelsior as Executive Vice President, Strategy and Corporate Development. Prior to joining Excelsior, Solomon spent over 15 years helping companies across a variety of industries think through financial, strategic and legal issues as an investment banker, strategy consultant and corporate lawyer at firms including Goldman Sachs, Bain & Co. and Kirkland & Ellis. He has extensive experience structuring and negotiating complex business transactions, including mergers and acquisitions, strategic investments, partnerships and licensing deals. Solomon holds a BS in Commerce from the University of Virginia, an MBA from The Wharton School, and a JD from the University of Pennsylvania Law School. He said, "I look forward to working with the team to execute on the company's strategic priorities and accelerate growth as we continue to meet and exceed the expectations of our patients and providers."
Dr. Henry Chen, Excelsior's Co-Founder and CEO, stated, "We are delighted to welcome Dennis, Long and Solomon to the Excelsior team. Each of them brings unique strengths and complementary skill-sets which will serve us well as we continue to scale the company and transition to a value-based-care model. With a strong leadership team dedicated to our vision, we are well positioned to continue to execute our long-term strategy and fulfill our mission of providing the best possible care to our patients."
"Excelsior providers have linked arms to form a strong foundation", says Ben Kraus, Managing Director of Kain Capital. "But that is just the first step. Going forward, we are attempting to build a large, complex house on that foundation and we've brought in three expert craftsmen who have built these types of houses before to help us accomplish our goal. Their experience and drive to succeed will help Excelsior grow as a unified corporation and take on bigger and more lucrative challenges - like managing global capitation contracts and eventually becoming a publicly traded company."
ABOUT EXCELSIOR MEDICAL
Excelsior Medical is a healthcare delivery system offering culturally appropriate primary care, specialist and ancillary healthcare services throughout New York City. Since its founding in 2013, Excelsior has been building a trusted community within New York City's Asian population, tailoring its style of care to the culture and expectations of its patient base, resulting in better health outcomes.
SOCIAL MEDIA
Facebook: https://www.facebook.com/eimgny
Twitter: https://twitter.com/eimgny
Linkedin: https://www.linkedin.com/company/excelsior-integrated-medical-group-pllc/