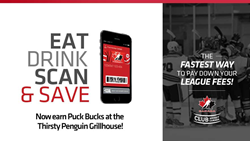 Toronto, ON (PRWEB) February 18, 2015
Canlan Ice Sports Corp., in conjunction with Exchange Solutions and Hockey Canada, announces a mobile-based loyalty program that lets members of Canlan's Adult Safe Hockey League (ASHL) earn PUCK BUCKS, the loyalty currency of Hockey Canada's Club Hockey Canada (CHC) program, at any of the eleven Thirsty Penguin Grillhouse locations in Canlan rinks across Canada.
Players simply use their smartphone to flash their mobile CHC loyalty card at any Thirsty Penguin Grillhouse to earn a minimum of five percent of their food and beverage purchases back in PUCK BUCKS. With one PUCK BUCK equal to $1, players can then redeem those PUCK BUCKS on the ASHL website towards reducing their league fees.
"The PUCK BUCKS loyalty program is ideally suited to the Thirsty Penguin and its most important customer group, players in Adult Safe Hockey League," said Ian Irving, Director of Food & Beverage at Canlan Ice Sports. "It is easy to use, doesn't require carrying another card in your wallet, and provides a reward that is highly valued by its users. Canadians love loyalty programs and support the businesses that provide the best ones."
"Up until now, the only way for Club Hockey Canada's members to earn PUCK BUCKS was through the purchase of hockey-related items in our online store. Canlan's program is providing a unique new approach for our adult members to earn PUCK BUCKS, when purchasing food and drinks at the Thirsty Penguin," said Jonah McEachern, Director of Operations at Hockey Canada. "Plus the addition of mobile functionality to CHC means that there's even more opportunities available for Hockey Canada to explore in our goal to help Canadians lower the cost of hockey."
More than 800 ASHL teams have players that have participated in the program since the launch at the beginning of the 2014 hockey season, with almost $30,000 in PUCK BUCKS awarded in the first four months.
"From the outset, our goal was to create a loyalty program that was easy to use and provided significant value to the ASHL's members," said Steven Hoffman, President and CEO of Exchange Solutions. "An added benefit is that the data tracking and analysis capabilities of our customer engagement platform can provide Canlan the capacity to better understand their customers, allowing the company to be much more targeted in providing relevant offers and promotions to players and teams."
ASHL players can download their mobile Club Hockey Canada Card from the Club Hockey Canada website at http://www.clubhockeycanada.ca.
About Canlan Ice Sports
Canlan Ice Sports Corp is the North American leader in the development, operations and ownership of multi-purpose recreation and entertainment facilities. We are the largest private sector owner and operator of recreational ice sports facilities in North America and currently own and/or manage 20 facilities in Canada and the United States with over 70 surfaces including ice rinks as well as soccer fields, ball diamonds, curling rinks and volleyball courts. To learn more about Canlan please visit http://www.icesports.com.
About Exchange Solutions
Exchange Solutions designs, builds and operates intelligent customer engagement programs that help companies maximize customer profitability, by identifying high-value customer "behavior gaps" and using personalized incentives to motivate customers to change their behavior.
The company's cloud-based platform and managed services approach deliver quicker results and better ROI than traditional customer loyalty programs. From their offices in Boston and Toronto, Exchange Solutions has been helping leading retailers, financial institutions and online businesses, including Hockey Canada, create sustainable and profitable communities of engaged customers since 1996.
To learn more about Exchange Solutions please visit http://www.exchangesolutions.com
About Hockey Canada
Hockey Canada is the governing body for hockey in Canada and a member of the International Ice Hockey Federation (IIHF), with a membership through its 13 provincial branch associations of over 700,000 players, coaches and officials. Hockey Canada is a not-for-profit organization that creates leading-edge hockey development programs for its members to deliver in communities across Canada, provides consistent rules and regulations and various other membership services from coast to coast, manages numerous regional, national and international hockey championships and events, and leads the operation of all teams that represent Canada in international hockey competition. Hockey Canada's mission is to "lead, develop and promote positive hockey experiences."