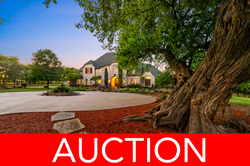 Bodark Acres is one of the best kept secrets in Collin County, neighboring Frisco home of the Dallas Cowboys and PGA Headquarters.
DALLAS (PRWEB) August 19, 2020
Located in the sought-after rural city of Anna, Texas, Bodark Acres offers a wonderful relaxed quality of life, just north of neighboring McKinney and minutes from the bustling Dallas-Fort Worth Metroplex and downtown. This ideal escape from city life provides a little something for everyone with its abundant private acreage, security, and master craftsmanship architecture. Supreme Auctions will offer this custom luxury estate at a no-reserve auction on September 19, in cooperation with Lori Vaden of Compass.
"Poised for growth, Anna, Texas is just two miles west of Celina, and McKinney 20 minutes south, which makes Bodark Acres one of the best kept secrets in Collin County in terms of locale. Also neighboring Anna is Frisco, Texas... home to both the Dallas Cowboys and PGA headquarters, as well as numerous sporting arenas and teams, including soccer, baseball, NFL, and hockey." stated Jennie Heal, President of Supreme Auctions. "Being within reach of the DFW metroplex, which is known as being the economic and cultural hub of the North Texas area, it is the ideal location for discerning homeowners who seek a more intimate place to call home."
Providing a true personal haven, Bodark Acres spectacularly demonstrates a private and relaxing country-side lifestyle of affluence and refinement with its five-bedroom, four full bathroom main residence that comes complete with its own resort-style patio area with heated pool, spa, and covered cedar cabana terrace. The estate is comprised of two adjacent parcels and is completed with a secondary guest house residence, sheds, workshop, and of course, an abundance of acreage and open space to call your own.
"This home offers a spectacular setting and attention to detail at every turn," stated Compass listing agent, Lori Vaden. "The seller clearly put extensive thought into every decision and design feature. Even upon the initial drive up to the property, you can feel your body decompress. It is tucked away, yet near a major highway, for the ideal commute conditions. The history of the property, the trees, the setting, and the privacy are the first features to grab your attention. You can tell this magnificent property is different the second you pass through its gated entrance. There is a massive Bois D'Arc tree that is said to be one of the oldest in the state. The home is impeccably maintained inside and out and a buyer can easily envision a life here."
Bodark Acres will enthrall you with its majesty and draw you to a location that will fulfill your need for community savoir-faire. Culture, shopping, dining, business and legendary sporting teams are just a small taste of the lifestyle that the Dallas-Fort Worth area offers to its visitors and residents. A celebrated location, DFW is home to 23 Fortune 500 companies and continues to grow in popularity and positive reputation. Known for its diversity in business, including commerce, insurance, telecommunications, energy, healthcare, transportation and logistics, Dallas is truly an area of economic growth.
"This neighborhood is the most unique that I've ever lived in," stated the current owner, Kristi Jones. "The neighbors to the east, west, and south have all grown up here in the area, including their families, some for 50 years… before the roads were even paved. This shows great loyalty, love and stability in the neighborhood. I will be sad to leave; however, it is time for me to move on to the next chapter of my life."
Bodark Acres will be sold at a luxury no-reserve auction on September 19, to the highest bidder. To learn more, contact Supreme Auctions at (866) 929-2243 or visit SupremeAuctions.com.
About Supreme Auctions
Supreme Auctions, the firm who started the Luxury Real Estate Auction Industry, is a leader in luxury real estate property auctions, providing proprietary accelerated marketing services unique to each distinctive property represented and sold. The company has a dedicated team of auction marketing professionals that provide decades of expertise, integrity, and knowledge. Supreme Auctions provides the highest level of service to both sellers and buyers of multimillion-dollar luxury properties by combining experience with the most current technology and marketing resources. The company offers sellers and luxury brokerages worldwide the optimal auction strategy to ideally suit each exclusive property, providing services that are unparalleled in the luxury real estate auction industry.