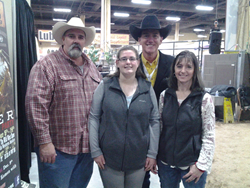 The "Buck Autism" Campaign is such a unique way to raise awareness about autism; it's especially poignant because the bulls strength and determination reflect the spirit of our mission, said the President of the National Autism Association.
Orchard, TX (PRWEB) April 01, 2014
In support of National Autism Awareness Month this April 2014, Exclusive Genetics (EG), a world leader in the bucking bull industry will launch the "Buck Autism" campaign. Partnering with the National Autism Association (NAA) and the Parent Information Center of Wyoming (WPIC), Exclusive Genetics will help raise awareness, as well as funds for programs and services that help children and adults with autism. Supporters can join this mission by making a donation and receive a "Buck Autism" Awareness Bracelet at BuckAutism.com
"Buck Autism" stems from how one person's life changed dramatically after getting involved in the bucking bull world. Wyoming resident, Jayci Mead, a 21-year-old woman who has autism, is involved in bull ownership through Exclusive Genetics. Her interest in bucking bulls has helped her communicate and express herself in ways that she was unable to do so prior to her connection to bull ownership. See Jayci's complete story and video at http://www.BuckAutism.com.
After learning that the Center for Disease Control recently reported that 1 in 68 children in the United States is affected with autism spectrum disorder, Exclusive Genetics CEO, Billy Jaynes, feels that these staggering statistics further validate his reasoning for supporting this cause. He emphasizes, "As a parent, it is heart wrenching to hear that the number of children that have been diagnosed with autism has increased 30% in the past 2 years. As a business owner, and with my connection to Jayci and her family, I want to help make a difference."
To kick off the fundraising activities, a special charity event will be held on Saturday, April 5, in honor of National Bucking Bull Day at the Academy of Country Music, ACM Party For A Cause® Festival in Las Vegas. Top winning champion bulls, including a bull named "Buck Autism" will compete with proceeds to be donated to several charities, including NAA and WPIC. Funds raised from a special exhibition showcasing Jayci Mead's bull "Monkey Ears" will also be contributed to the organizations. To view National Bucking Bull Day, tune into http://www.BuckingBullTV.com.
Wendy Fournier, President of the National Autism Association expressed her gratitude in being able to be involved in this campaign, "We're excited to have the opportunity to share our message during Autism Awareness Month with country music fans, as well as bucking bull enthusiasts. This is a community of genuine, caring people whom we know will respond very positively to our cause." She added, "This is such a unique way to raise awareness about autism; it's especially poignant because the bulls strength and determination reflect the spirit of our mission."
Terri Dawson, Executive Director of the Parent information Center of Wyoming, provides support and resources for Jayci Mead and her family. She said, "Jayci's parents feel so incredibly blessed that their daughter, after years of silence, has found her passion and love of bulls. This is the kind of joy that all parents wish for and it shows that there is hope - sometimes in the most unexpected way."
Donations of $5.00 and up will receive a "Buck Autism" Awareness Bracelet as a thank you. All proceeds will go directly to the NAA and WPIC, thanks to Linda Martinelli, proprietor of Proforma Graphic Printsource (and namesake for her bull) in Corona, CA for her generous donation of the bracelets.
To learn more about autism or to make a donation, please visit the National Autism Association and the Parent Information Center of Wyoming - they are 501(c)(3) organizations. To receive an awareness bracelet visit BuckAutism.org.
About Exclusive Genetics
The core concept of Exclusive Genetics is to take PBR, CBR and rodeo fans and turn them into bucking bull owners. There are many fans who dream of becoming a "stock contractor" and Exclusive Genetics was founded to make this a reality. Their slogan "No truck, No Trailer, No Ranch, No experience necessary," has assisted EG in creating a business that now has over 200 customers located in 41 states and 5 countries worldwide. Visit, http://www.ExclusiveGenetics.com.
About National Autism Association:
NAA is the leading voice on issues related to autism safety and crisis prevention. The organization's mission is to respond to the most urgent needs of the autism community, providing real help and hope so that all affected can reach their full potential. Visit http://www.NationalAutismAssociation.org.
About Parents Information Center of Wyoming:
PHP's mission is to help families become more active in their children's learning and education, to serve and support children with and without disabilities through advocacy, education, and referral. Visit http://www.WPIC.org.
Media Contact:
Devera Lynn
516.220.8837
devera(at)powerhouse-pr(dot)com
http://www.BuckAutism.com