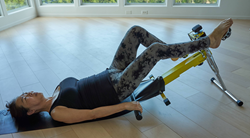 "The Hang On Bar brings numerous new exercises to our lying down cycling capabilities and opens up more versatility for physical therapy, medical fitness, and advanced training" -- Michele Mehl, Co-founder and CEO at Excy
SEATTLE (PRWEB) September 16, 2020
Excy (http://www.excy.com), the leader in quality portable full-body cycling equipment, announced today the new Hang On Bar accessory for high force bi-directional leg cranking while lying down on the floor or in bed. Exclusively designed for Excy's patented no-scoot portable exercise bikes, the Hang On Bar allows riders to leverage their upper body to aggressively pedal Excy while lying down to target muscles in the trunk, lower back, glutes, legs, calves, and feet from a supine cycling position. Excy also released a new dual-purpose hand and foot pedal for added convenience and comfort when switching between its upper and lower body cycling workouts.
"The ability to pedal Excy while lying down has been one of our most popular riding positions, whether it's on the floor, in bed, or on a therapy table," said Michele Mehl, co-founder and CEO of Excy. "For some, they pick this position for general fitness, but for others, it might be the only way they can exercise due to an injury, chronic pain, or a health condition that favors supine cycling. The Hang On Bar brings numerous new exercises to our lying down cycling capabilities and opens up more versatility for physical therapy, medical fitness, and advanced training."
Designed and manufactured in the United States, Excy's XCS 200 portable exercise bikes are uniquely built for heavy duty usage and offer a broad range of upper and lower body cycling workouts. In one system that folds for easy storage and transport, riders can use Excy as a recumbent exercise bike, upper body ergometer, step cycle, and a lying down bike. With 2-70 pounds of bi-directional resistance, Excy portable bikes are capable of light to athletic performance levels for cardio, strength training, and range of motion exercises. The secret to Excy's durable design is its patented Keeper, a flexible durable material made of vinyl and coated fabric that simply uses the rider's body weight to prevent the bike from scooting, whether in a kneeling, lying down, or sitting position. The new Hang On Bar simply attaches to the Keeper in seconds, allowing the rider to hold on and crank their legs at significantly higher forces while lying down compared to without it. The new Excy Hand Foot Pedal makes it easy and convenient for riders to rotate between pedaling their hands or feet without ever having to swap out the pedals.
Excy Hang On Bar: Ultimate Cardio and Strength Training Supine Cycling Experience
Excy has supported a supine cycling experience since launching its innovative device on Kickstarter, including helping customers improve circulation, preserve joint integrity, and prevent or attenuate lower-limb muscle weakness due to limited mobility. By introducing the Hang On Bar, riders can now crank up the power for Excy's supine cycling workouts with higher levels of force that can be similar to weighted squats, leg presses, lunges and the like. Riders can start easy by simply grabbing the bar while pedaling to engage their core, then slightly increase the angle of the pelvis for more core engagement, and then lift their pelvis into a full bridge position to build greater endurance and strength. Resistance can be dialed up or down for cardio and/or strength training workouts with low impact on joints. It is ideal for slow motion high force cranking to build total body strength, with a specific focus on engaging the core, glutes, and legs.
Excy Hand Foot Pedal: Ultimate Convenient and Comfortable Dual Purpose Pedal
The new Excy Hand Foot Pedal now ships standard with every Excy purchase. One side includes a soft cushion for an ergonomically correct and comfortable hand cycling position. Riders can simply turn the pedal around and pedal with their feet with a wide platform base to comfortably pedal barefoot, in socks, or with shoes. The Excy Hand Foot Pedal works with any 9/16" crank arm.
Pricing and Availability
The Excy Hang on Bar retails for $79.95. The new dual purpose hand and foot pedal ships standard with all Excy XCS 200 systems, but is available for purchase for $69. Excy portable exercise bikes start at $699. Rent-to-own and monthly rental programs are also available. Excy also provides a free mobile coaching application for Android and iOS with live, on-demand, and guided training from physical therapists.
About Excy
Excy is a Seattle-based company creating quality portable exercise equipment and on-demand training for those who want to safely and conveniently enjoy the benefits of full body cycling and resistance training without the barriers of big, expensive, and hard to access exercise equipment. Excy also provides a free mobile coaching application for Android and iOS with live, on-demand, and guided training from physical therapists. All Excy systems ship in recyclable packaging. For more information visit http://www.excy.com.