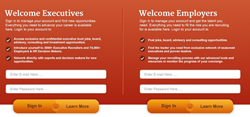 All our executives are pre-screened and only those who meet certain criteria are accepted into our network.
Los Angeles, CA (PRWEB) April 14, 2014
Executive Employers, a recruitment firm that provides a host of top-quality employment services to corporations, nonprofits and individuals, has just announced that they are offering recruiters access to 50,000 senior executives. The recruiters, who are already part of the company's network, can gain unlimited access to Executive Employers' exclusive bank of resumes.
Executive Employers has priced the unlimited access to its exclusive network of senior executives at $999 per month. Currently, they are only accepting a limited amount of recruiters in the program for the beta launch. Recruiters can apply for access from their account and if they are approved, they will have the candidate search feature activated in their account after the payment.
Reaching 50,000 senior executives was a recent and key milestone for the Executive Employers Recruiters Network. Having this large number of senior executives is great news for independent recruiters and HR managers of the companies searching for proven leaders.
"All our executives are pre-screened and only those who meet certain criteria are accepted into our network," said Jessica Jones, director of the recruiting division for Executive Employers.
"Executives can then choose their privacy settings and decide who they want to show their resume to: the public, all recruiters, or they can choose to show their profile only to recruiters and HR managers who meet certain criteria like the same industry or location."
As a bonus, Jones said that Executive Employers provides executives access to confidential jobs which are not made public.
"These jobs are posted by executive recruiters in our network of 3,000 executive recruiters. The supply and demand is very well controlled and each job posting is screened to make sure it meets the criteria. This saves our executives valuable time because they do not have to go through junk job postings in online job boards."
In the relatively short time the start-up executive search firm has been open, Executive Employers has already helped a lot of executives to land high quality positions, including confidential Cxx level jobs, board and advisory roles and consulting opportunities.
For example, Jones noted that in March, the company helped fill more than 200 executive level opportunities, and that they are on track to double the performance in April. By utilizing state of the art technology to connect senior Executives, Recruiters and HR decision makers directly, Executive Employers takes out the middle man and saves both employers and candidates valuable time and money.
About Executive Employers:
Executive Employers was founded in 2012 as a VC-funded recruitment firm specializing in providing a wide range of employment services to individuals, corporations and nonprofits. In addition to positioning members within Fortune 500 companies to fill their top-tier leadership positions, Executive Employers also facilitates the placement of individuals to advisory boards and board of director positions using a unique competitive process in which multiple recruiters from across our extensive network vie against one another to find executives the most suitable match for their skill set and experience. For more information please visit http://www.executiveemployers.com.