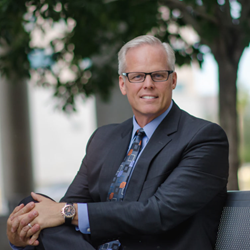 SCOTTSDALE, Ariz. (PRWEB) December 04, 2018
TTI Success Insights announced Brent Patmos, executive business coach, author and founder of Perpetual Development, Inc. will be a featured speaker at TTISICON, an annual talent management conference in Phoenix.
Based in Phoenix, Patmos has worked with more than 125 privately held businesses, helping them to create accessible, transparent and successful company cultures. Patmos guides the leaders of privately held and family owned companies to advance their mindset and business performance. He believes in helping professionals actualize their full potential, create sustainable business growth and cultural continuity. Patmos is the author of "Beyond the Name – Preserving Love, Legacy and Leadership in Your Family Business."
"Brent helps businesses develop a company culture that brings everyone together and ensures all employees, regardless of position, are moving in the same direction," said Candice Frazer, vice president of marketing at TTI Success Insights. "His track record speaks for itself in creating transparency between different levels of organizations."
TTISICON is a conference that brings together the brightest minds in the talent management industry. Open to the general public for the first time this year, TTISICON is the place to gain insights, connect with other like-minded individuals and to become inspired to maximize the potential of an organization's workforce. The event takes place on Friday, Jan. 11, 2019 at The JW Marriott Desert Ridge.
Patmos shares the stage with several globally recognized experts such as Frans Johansson, Molly Fletcher, Brian Mohr and Ron Price, all of whom create a story arc that speaks to transforming the way organizations think about success - through people. To register and learn more about the event, visit http://www.ttisicon.com.
-
About TTI Success Insights
TTI Success Insights reveals human potential by expanding the awareness of self, others and organizations. Diving deeper than DISC, TTI SI provides professionals solutions to hire, engage and develop the right people and build strong teams. To learn more, visit ttisuccessinsights.com.