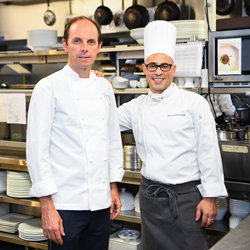 About the experience, Chef Ferrarese said, "It was great to work with Chef Roger. Our dinner was sold out so we were able to share our Italian and Spanish culinary creations with many people. We are both very passionate about what we do, so anytime we get to share our passion, we're happy to do so."
HOUSTON (PRWEB) October 18, 2019
Popular Houston restaurant chefs Maurizio Ferrarese of Ristorante Cavour, and Luis Roger of MAD and BCN Taste & Tradition combined their talents and delighted guests with an intimate seven-course dinner last Tuesday evening. Guests enjoyed the upscale Tuscan ambience of Hotel Granduca's Ristorante Cavour, while sipping wine and relishing the variety of Italian and Spanish course offerings.
The dinner boasted seven courses, three from Chef Maurizio Ferrarese, and three from Chef Luis Roger, along with a final combined dessert course. Chef Ferrarese served diners the Italian classics that Ristorante Cavour is well-known for, starting with Parsnip and Salsify Soup, Forest Mushrooms, and Foie Gras Torchone. Chef Roger, who offered modern dishes inspired by his Spanish heritage throughout the evening, served the second course of Baby Fava Beans, Seared Scallops and Cured Ibérico Ham. 
The heartier third course of Veal Ossobuco Ravioli, Marrow Sauce, Saffron and Castelmagno Cheese by Chef Ferrarese delighted diners, and was followed by Chef Roger's Sea Cucumber and Norwegian Lobster, served with Squid Ink Bomba Rice and Butternut Squash. The fifth and sixth courses rounded out the meal, with Chef Ferrarese's Pan Roasted Chilean Seabass, Cream of Fingerling Potatoes, Black Truffle, Charred Cauliflower, Asparagus and Air Dried Tomatoes and Olives, and Chef Roger's Acorn Fed Ibérico Suckling Pig served with Apple-Vanilla Bean Ganache. Their combined dessert effort of Hazelnut and Chocolate Ferrero Rocher with Crispy Phyllo Catalán Brule was a guest favorite. 
About the experience, Chef Ferrarese said, "It was great to work with Chef Roger. Our dinner was sold out so we were able to share our Italian and Spanish culinary creations with many people. We are both very passionate about what we do, so anytime we get to share our passion, we're happy to do so." 
Chef Ferrarese is also looking forward to Ristorante Cavour's next event, a Veneto-Corte Guala Wine Dinner on November 6th. This five-course meal will feature Cicchetti Antipasto paired with Prosecco; Mediterranean Seafood Salad, Scallops, Lobster, Octopus, Shrimp and Calamari paired with Soave; Raviolo Stuffed with Veal Ossobuco, Saffron and Cheese Sauce, paired with Rosso Veneto; Linz Heritage Angus Reserve Beef Bone-In Filet Chops served with Amarone della Valpolicella vs Appassimento; as well as Sous Vide Creme Caramel with Illy Espresso Coffee. 
The Veneto-Corte Guala Wine Dinner will be $98 per person, and will include all five courses and wine pairings. Reservations will be given on a first-come first-served basis. To RSVP, email Chef Ferrarese at mferrarese@granducahouston.com, or call (713) 418-1000.
About Ristorante Cavour
Recognized as one of Houston's best Italian restaurants, Ristorante Cavour highlights Northern Italian cuisine in a beautiful and serene setting, accented with Murano chandeliers. Guests savor traditional Italian favorites alongside seasonal house specialties with selections to indulge even the most discerning palate. Ristorante Cavour also features an award-winning wine cellar with over 600 vintages, hand-selected from ten countries around the world. Spear-headed by Executive Chef Maurizio Ferrarese, Ristorante Cavour offers guests an impeccable dining experience in an intimate and elegant atmosphere. To learn more, visit http://www.granducahouston.com/en/restaurant-cavour.html. 
About MAD
No passport is required for a journey to MAD. An innovative experience that blends Madrid's famous nightlife and the very best of Spanish gastronomy, MAD features creative tapas and small bites, wood-fire cooked rice, fish and meats, terrific gin and tonic, craft cocktails, and wine cellar with a selection of the highest-quality wines from around the world. Using high-quality, fresh ingredients, and creativity in every corner, MAD, led by Executive Chef Luis Roger, has a passion for surprises, where the moon is the only limit. To learn more, visit http://www.madhouston.com/about. 
About BCN Taste & Tradition
BCN Taste & Tradition began as a nod to the city of Barcelona, meshing traditional and modern Spanish cuisine. BCN and Executive Chef Luis Roger showcase the cutting-edge, haute cuisine that propelled Spain to the world culinary stage, as well as the traditional recipes that have been passed down throughout generations. To learn more, visit http://www.bcnhouston.com/the-restaurant/about-us.