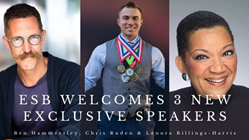 "We are excited to add these speakers to our growing roster. They are thought leaders and experts in their respective fields, and will continue to bring the excellence and thought-provoking content our clients have come to expect from Executive Speakers Bureau." - Stephen Kirkpatrick
MEMPHIS, Tenn. (PRWEB) October 01, 2019
Executive Speakers Bureau is proud to announce its exclusive representation of Ben Hammersley, Lenora Billings-Harris, and Chris Ruden for all keynote speaking engagements.
One of the world's leading futurists, Ben Hammersley is the founder and principal of Hammersley Futures, an international strategic forecasting consultancy, and the inventor of the term "podcast". When Ben Hammersley speaks to audiences, he dissects intricate concepts and developing technologies and adds fascinating stories and analogies to make these topics accessible. Hammersley employs humor and common sense to illustrate his views, rather than the "doom & gloom" scare tactics about our rapidly developing future. His methods are especially helpful when illustrating that spheres of power and influence have dramatically changed in the last generation, and how most of us employ a way of thinking that doesn't line up with today's society-or the future.
Chris Ruden is an elite powerlifter, entrepreneur, model, and motivational speaker. Born with a congenital birth defect leaving him with only 2 fingers on his left hand and a shorter left arm, and then being diagnosed with Type-1 diabetes, Chris believes that losing is not an option. He uses his struggle to inspire people to overcome any and all adversity they may face in their lives through molding mindsets into resilient fortresses of self-belief. Through humor, logic, and passion, Chris' comedically relatable, yet hard-hitting message inspires the masses.
As a diversity strategist, Lenora Billings-Harris partners with organizations to help them make diversity a competitive advantage. Included as one of 100 Global Thought Leaders on Diversity and Inclusion by The Society of Human Resource Management (SHRM), and one of the twenty top influential diversity leaders in the US, Lenora's ability to transform multifaceted diversity and inclusion concepts into immediately applicable "how to's" have enabled her to help Fortune 500 companies, professional associations, government agencies, and educational institutions facilitate change to attract and retain and engage top talent, expand multicultural markets.
"We are excited to add these speakers to our growing roster. They are thought leaders and experts in their respective fields, and will continue to bring the excellence and thought-provoking content our clients have come to expect from Executive Speakers Bureau," says Stephen Kirkpatrick, Director of Speaker Management Division.
For more information on these keynote speakers and more, contact Executive Speakers Bureau at (901) 754-9404.
ABOUT EXECUTIVE SPEAKERS BUREAU
Executive Speakers Bureau is proud to exclusively represent Ben Hammersley, Chris Ruden and Lenora Billings-Harris for all keynote speaking engagements. We are a full-service speakers bureau, taking pride in our ability to provide world-class service as well as our ability to deliver today's foremost professional speakers and expert trainers to clients around the world. It is our commitment to provide our clients with unparalleled service, access to hundreds of motivational speakers worldwide and individualized personal attention. For more information, visit http://www.executivespeakers.com or call us at (901) 754-9404.