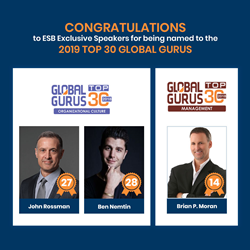 MEMPHIS, Tenn. (PRWEB) March 14, 2019
Executive Speakers Bureau is proud to recognize three exclusively represented keynote speakers who were recently named as a Top 30 Global Guru by http://www.globalgurus.org.
Digital disruption speaker and author of The Amazon Way, John Rossman has been recognized as #27 for Organizational Culture. Clients call John when they are looking to scale and improve digital, IoT or technology-driven strategy and operations. He helps them envision and execute complex customer-oriented change, and differentiate themselves by the level of immediacy, control, personalization and customization they offer customers. In his keynote presentations, John Rossman teaches how the culture of Amazon drives the ability to disrupt, what principles continually produce these changes, and how to set up your company to drive disruption. Rossman reveals and unpacks the secrets of Amazon's unparalleled growth and how the company's culture has driven innovation and growth.
Motivational Speaker Ben Nemtin is recognized as #28 Top Global Guru for Organizational Culture. As the #1 New York Times bestselling author of What Do You Want to Do Before You Die? and star of MTV's The Buried Life, Nemtin uses keynote speeches to help empower and motivate groups to make a difference and live courageously. Nemtin helps companies create an organizational culture that prioritizes work-life harmony and values giving back. He has found himself at the forefront of the mental health awareness movement, offering tools and language to help people and corporations understand how to better equip themselves and their environments for healthy personal development. Nemtin believes that an organization can only become the-best-version-of-itself to the extent that its associates are becoming better-versions-of-themselves.
Brian P. Moran has been named #14 Top Global Guru for Management. Brian is a recognized expert in the field of leadership and execution. His realization that most people don't lack ideas but struggle with effective implementation led him to the development of The 12 Week Year. In addition to his books, Brian has been published in many of the leading business journals and magazines. He is a sought after speaker, educating and inspiring thousands each year, providing audiences with the understanding of what it takes to perform at their best each and every day.
To learn more about these Global Gurus and respected keynote speakers, contact Executive Speakers Bureau at http://www.executivespeakers.com or (901) 754-9404.
ABOUT EXECUTIVE SPEAKERS BUREAU
Executive Speakers Bureau is proud to exclusively represent John Rossman, Ben Nemtin, and Brian Moran for all keynote speaking engagements. We are a full-service speakers bureau, taking pride in our ability to provide world-class service as well as our ability to deliver today's foremost professional speakers and expert trainers to clients around the world. It is our commitment to provide our clients with unparalleled service, access to hundreds of motivational speakers worldwide and individualized personal attention. For more information, visit http://www.executivespeakers.com or call us at (901) 754-9404.