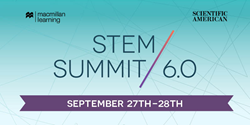 STEM education opens a wealth of opportunities for students to learn about the world around them and to potentially contribute to solving some of our greatest challenges. --Susan Winslow, GM, Macmillan Learning
AUSTIN, Texas (PRWEB) September 04, 2018
Scientific American, the longest-running magazine in the US, and Macmillan Learning, the premier educational solutions and insights provider, have elected to move their annual STEM Education Summit to Austin from its home in NYC. The move is in recognition of Austin's role as an incubator for groundbreaking education technology, and the importance of Texas in setting national standards for education. Over the past five years, the STEM Summit has attracted an array of notable speakers and attendees, including award-winning actor and author, Alan Alda; former CEO and Chairman of the Board Intel Corporation, Craig Barrett; former Executive Director of STEM at the U.S. Department of Education, Russell Shilling; and CEO of Change the Equation, Dr. Linda Rosen.
Co-hosted by Scientific American editor-in-chief Mariette DiChristina and Macmillan Learning GM Susan Winslow, this year's program includes leading academics Dr. Carol Fletcher, Deputy Director of The Center For Stem Education, UT Austin, and Dr. Sylvester Gates Jr., Theoretical Physicist, Presidential Scholars Program, Brown University. Fletcher and Gates will be joined by executives from leading STEM-related companies and foundations, including Dan Russell, head of Search Quality & User Happiness at Google; JoJo Bahnam, VP of Advancement and Strategic Relations at XPRIZE; and Janet Auer, head of Education Services at Chevron.
Commenting on the event, Susan Winslow, GM of Macmillan Learning stated, "STEM education opens a wealth of opportunities for students to learn about the world around them and to potentially contribute to solving some of our greatest challenges. That's why we're so passionate about gathering a diverse set of stakeholders each year for this conference. It's critical to understand the myriad of perspectives at play in order to transform the future of education, and indeed, our society as a whole."
Adding an exciting new element to this year's convening, Dr. Kate Biberdorf – Associate Professor at UT Austin and "science rock-star" – will attempt to break the Guinness World Record for the largest chemistry class ever.
The summit will be held at Austin's new Central Public Library, and will also feature remarks from library director, Roosevelt Weeks.
The invitation-only gathering will be held September 27-28, 2018.
Details:
When – Thursday, September 27, 10:00 am–5:00 pm; Friday, September 28, 9:00 am–1:00 pm
Where – Austin Central Public Library, 710 W Cesar Chavez St (btwn. West Ave. & Nueces St.)
For more information or to schedule an interview with any of the speakers, please contact: Nikki Jones, Senior Director of Communications, Macmillan Learning.
About Macmillan Learning:
Macmillan Learning improves lives through learning. Our legacy of excellence in education informs our approach to using user-centered design, learning science, impact research, and data mining to develop world-class content and pioneering products that are empathetic, highly effective, and drive improved outcomes. Through deep partnership with the world's best researchers, educators, administrators, and developers, we facilitate teaching and learning opportunities that spark student engagement and improve outcomes. We provide educators with tailored solutions designed to inspire curiosity and measure progress. Our commitment to teaching and discovery upholds our mission to improve lives through learning. To learn more, please visit our website or see us on Facebook, Twitter, LinkedIN or join our Macmillan Community.
About Scientific American:
Founded in 1845, Scientific American is the oldest continuously published magazine in the US and the leading authoritative publication for science and technology in the general media. Together with scientificamerican.com and 14 local language editions around the world it reaches more than nine million readers. Other titles include Scientific American Mind and Spektrum der Wissenschaft in Germany. Scientific American is published by Springer Nature, a leading global research, educational and professional publisher, home to an array of respected and trusted brands providing quality content through a range of innovative products and services. Springer Nature was formed in 2015 through the merger of Nature Publishing Group, Palgrave Macmillan, Macmillan Education and Springer Science+Business Media.