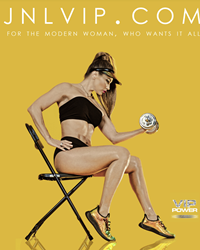 "Many younger women know they can trust a woman of my age, who has dedicated over 16 years of her life to helping other women. The cool thing is that their moms know me, and trust me, and then they introduce their daughters to me. It's a beautiful cycle" states Jennifer Nicole Lee
MIAMI (PRWEB) May 09, 2019
There are many problems in the fitness. First of all it's a saturated market of up and coming self-proclaimed "fitness experts" who have no real experience in coaching clients. Many are fitness models posting as professionals who are not accredited or well-trained. Some are imposing as certified trainers, just to get more publicity, and don't even train anyone other than themselves.
The level of misrepresentation in the weight loss community is at an all-time high. Who do you trust? Who do you hire? Who to you install your time, money and trust in? Its hard to decipher through the confusion and enormous amounts of online coaches and trainers.
This is why many younger women are seeking out the help of the older, and wiser, fitness professionals.
The established older woman trainer and coach has the years behind her to back up what she is teaching. The coach who is in her 40's can have the trust of both the younger woman, in her 20's and 30's, as well as the approval from her clients in their late 40's, 50's and 60's. There is a level of respect for the middle-aged woman who has "been there, done that", and has the countless coaching and training hours underneath her "leotard".
For instance, Jennifer Nicole Lee, a super coach and master trainer, has seen an influx of younger women seeking out her expertise, coaching and workouts. "Many younger women know they can trust a woman of my age, who has dedicated over 16 years of her life to helping other women. The cool thing is that their moms know me, and trust me, and then they introduce their daughters to me. It's a beautiful cycle."
Jennifer Nicole Lee, JNL for short, has been teaching webcam workouts online for the past 6 years, being a pioneer of the online coaching craze. "For me, teaching online is a solution for my clients, who lead very busy lives, especially younger women who are working part time, and going to school, or just entering into the corporate world. They need both mind-set coaching as well as physical training, which my JNL VIP Program online offers."
Younger women are now being bombarded with easy app delivery food, and need the solid nutritional coaching of an older nutritional expert who has had a solid handle on her food & supplementation for close to 20 years. Jennifer adds, "For me, I lost 80 lbs after the birth of my children, and kept it off for over 16 years. Nutrition is key, as well as having a positive mindset and dedicating yourself to working out 4-6 times per week. I love to coach my 20-somethings on how to set themselves up for long term success well into their 30's, 40's, 50's and 60's. I don't teach diets, I teach love for food, and love for self. These women learn life-long habits that stick through the chapters of their lives. Many come to me initially on how to lose fat fast, but end up with so much more, a complete holistic for mind, body and spirit.
This trend seems not to be slowing down. Generation Z are learning to lean onto the wisdom of Generation X because many are confused with the highly diversified fitness trends and so-called experts of today. They are yearning for a leader who they can actually see a past decade or two of success behind their name. In closing, Jennifer states, "I love teaching my younger clients the life-long wellness skills they need for the rest of their life, and I feel like it's more of an invaluable mentorship, then just working out. My younger clients stick with me, and I get to see them flourish and grow in all areas of their life, not only achieve their fat loss goals."
For more on Jennifer Nicole Lee, please visit her website http://www.JenniferNicoleLee.com as well as enjoy a 30 day Trial to her online program at http://www.JNLVIP.com