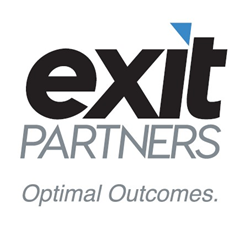 Exit Partners involvement was crucial to the ultimate success of our sale process... I am glad we engaged with them. Matt Staudt, CEO
RAMSEY, N.J. (PRWEB) March 11, 2021
Venture Development Center ("VDC"), the established thought leader and premier consultancy in the Big Data ecosphere, has agreed to be acquired by Stirista. Exit Partners, LLC represented the Board and shareholders during the transaction process.
Matt Staudt, VDC's Chief Executive Officer, said, "Exit Partners involvement was crucial to the ultimate success of our sale process. We interacted with multiple potential acquirers, progressed through negotiations, and at the end of the day, the company, its employees, and its clients ended up in a great situation moving forward. I am glad we engaged with them."
Founded in 1996 by Charlie Stryker, VDC was a pioneer in this sector from its earliest days. The company earned a reputation as an innovative thought leader, believing the future of marketing was going to be driven by synthesizing large amounts of data. The company counts several major Global brands as clients, as well as numerous alternative data providers and many information services firms that are household names.
Stirista Chief Executive Officer Ajay Gupta said, "We are excited to expand our product offering and integrate the exceptional relationships which VDC has developed into our platform. The acquisition enhances our customer service experience and strengthens our position in the rapidly evolving digital marketplace. We are proud to have such a capable group join our team and excited that Matt will continue as the Chief Strategy Officer at Stirista as part of our leadership team."
Exit Partners is a M&A advisory firm based in Plano, TX providing sell-side, buy-side, and strategic advisory services to well-positioned companies across several industries.
Stirista delivers micro-targeted multichannel marketing solutions fueled by super-smart data. The company is based in San Antonio, TX. Stirista is backed by the innovative B2B tech investment firm Wavecrest Growth Partners, based in Boston, MA.
http://www.exitpartners.com
http://www.venturedc.com
http://www.stirista.com
http://www.wavecrestgrowth.com