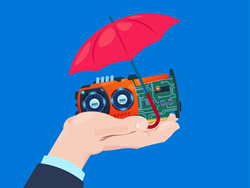 "Not all Independent resellers are honest. After purchasing a used GPU it may be in need of service. If the board fails after installation or has problems, the consumer can be out of luck." -Kyle Bittner
NAPLES, Fla. (PRWEB) February 01, 2019
Most consumers want to save a few hundred dollars and buy a used GPU. Some people do it with cars and especially big-ticket items like real estate. But a look into the decision-making process of buying a used graphics card—man, it could be at set up for a costly mistake. Remember a GPU needs to be reliable and something that won't break at the first signs of stress. We now specifically stress test every video card we sell for potential failure and include a copy of the certified report.
Looking around eBay and the other used online stores, many will find that warranties are hit or miss. Why? Because manufactures don't have transferable warranties. Many of them don't even allow for their product to be sold through non-approved third-party resellers. We at Exit Technologies purchase and sell used graphic cards and now offer an in-house 90-day warranty.
Nvidia's RTX series graphic cards designed for gaming are still hot. The graphic processing unit (GPU) shortage from early 2018 has also eased because of the slow in crypto mining operations, all leading to a perfect confluence for used equipment flooding the market.
Definitions in the graphic card marketplace
GPU – graphic processing unit. Commonly known as a graphics card. Some cards have multiple GPUs all on one circuit board. GPU is the common term, so we'll keep to the basic definition.
VRAM – video RAM, memory used only by the GPU. It's usually faster than DDR3/DDR4 RAM. Higher display resolutions and higher texture rendering are capable with dedicated VRAM.
Mining – cryptocurrency mining. If the GPU was sued for mining, it may overheat. Try to avoid purchasing these used cards unless you can negotiate a sizable discount.
Overclocking – when the user pushed the GPU's performance into higher tiers. This can lead to overheating and instability in performance.
PCB – printed circuit board. The fiberglass matrix the GPU is assembled on. Can be green, blue, or any other color. The GPU components are soldered to the PCB.
Common problems with Graphics Cards
"Not all Independent resellers are honest. After purchasing a used GPU it may be in need of service. If the board fails after installation or has problems, the consumer can be out of luck." -Kyle Bittner
Dust Buildup
Junk, crud, all the fluffy stuff that floats around a building seems to get deposited inside a computer. Use dry compressed air to blow the dust and fluff from the board. Pay close attention to the heatsink.
Severe Overheating
First check to see if the heatsink is mounted properly and other components are not bent and touching each other. Next, check the thermal compound. The paste is used to thermally bond components to the PCB or to a heatsink. To do this the fan may have to be removed. The process is not difficult but be certain to use an electro-static free workbench.
A bent or missing mounting brace and damaged PCB are all common issues that fall outside of an easy repair by the end user. Exit Technologies' addresses these issues and if the GPU can't be fixed, we recycle it with our R2 certified program.
Another issue we see happen is fake GPU's. These can be difficult to detect for the unschooled. This can be discovered by the performance expected from the GPU. Some GTX 1060 are relabeled GTX 960's.
TechPowerUp's utility, GPU-Z can analyze the technical specifications of the graphics card and detect if it's a fake. The utilities features are:

Supports NVIDIA, AMD, ATI and Intel graphics devices
Displays adapter, GPU and display information
Displays overclock, default clocks and 3D clocks (if available)
Includes a GPU load test to verify PCI-Express lane configuration
Validation of results
GPU-Z can create a backup of your graphics card BIOS
Support for Windows XP / Vista / Windows 7 / Windows 8 / Windows 10 (both 32 and 64-bit versions are supported)
Free to use for personal and commercial usage
The value of a used GPU is determined by the same factors we look for in purchasing used equipment to recondition and resell. The number one thing that needs to be remembered is only buy from a trusted reseller. When looking for new or used equipment online, remember to check the warranty. Does the reseller warrant the product or only rely on the manufacturer's warranty? If they don't stand behind the product then check with the manufacturer to see if the reseller can uphold the original warranty.
Look for these details if you decide to research used equipment
Age
Condition
Packaging
Number of Cores
3-D vs 2-D Rendering Capabilities
Graphics Memory Density: 4GB, 8GB, 16GB, etc.
Memory Type: GDDR5, DDR4, DDR3
Bandwidth: 2.1 GHz, 7 GHz
Pricing drives the new and used markets. Shop around and look for the best deal. Close to MSRP should be expected for new equipment or slightly discounted MSRP for used equipment. Way too many resellers prowl the web selling equipment, use this saturation to your advantage. But researching to determine if the price quoted is the best available price and includes a warranty.
Cost Analysis
Below $130
On a budget so old-school technology is an option. The GTX 1050/1050 ti might be a good choice. They'll operate with 2GB or less of VRAM. That will drive a 1080p or 720p monitor for gaming. Adjusts to texture rendering may be required.
Middle of the road $200 - $500
Most used cards fall into this category. The GTX 1060 6GB is a good representation for the lower end of the scale while the GTX 1070 would push closer to the high end. These cards can handle 1440p and VR gaming.
Over $500
When in the market for top of the line cards like the 1080 ti or 1070 ti GPU that can drive a 1440p up to 4K, definitely check the used market to save hundreds of dollars. This is where purchasing from a reliable source like Exit Technologies, that offers a warranty, is the best option and will save the most money.
If setting up a crypto mining rig, is the goal then give us a call. As we carry mid-level cards that are energy efficient and great for mining.
Or just in need of selling IT equipment in bulk? Then get a valuation by a trained professional and visit Asset Liquidation or our Data Center Decommission page for more information.