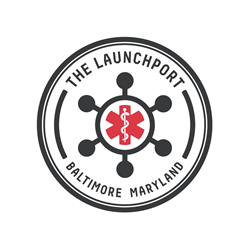 We've had companies from the Bay Area, Texas, Midwest and New England move to LaunchPort. It's just another statement that the Baltimore/DC area is a vibrant and growing Medtech hub.
BALTIMORE (PRWEB) February 11, 2020
The LaunchPort™ announced today that ExoRenal (http://www.exorenal.com) has moved into The LaunchPort™ medical device accelerator in Port Covington, Baltimore. The newly formed company is developing a novel pulsatile hemodialysis technology that is targeting the issues that must be addressed to manage increased demand for home dialysis treatments. The start-up company will be moving research functions from New England and will be adding engineering and R&D personnel from South Korea during the course of 2020.
Dr. Jake Lee, the founder of ExoRenal, has been conducting R&D for 17 years regarding blood purification including hemo and liver dialysis devices, and previously worked for LG Electronics, BHK and Fresenius Medical Care Korea. He came to the US to conduct research at the University of Michigan and the University of Vermont, and has most recently worked with the US Army under a $1M contract to develop a multifunctional blood purifying device that is rugged and readily useable under battlefield conditions to manage soldiers with multiple organ failure.
ExoRenal represented one of four South Korean technologies that were hosted at LaunchPort in 2019 during the Korean Bio I-Corps program – a dual-country customer discovery process sponsored by the Korean Innovation Center (Tysons Corner, VA) and the National Research Foundation (Seoul, South Korea) and taught by The MVR Company (Annapolis, MD). At the conclusion of the program, ExoRenal was selected to receive a commercialization investment from the NRF.
Dr. Lee commented, "I chose Port Covington as the home base for our new company, based on our experience this past summer at The LaunchPort™. We were impressed at the concentration of medical innovation in Baltimore – especially the strong reception from physicians and researchers at Johns Hopkins and the University of Maryland. Proximity to the numerous Federal agencies that are located in Maryland was also a critical factor for us."
Robert Storey, Managing Partner of LaunchPort, noted that ExoRenal is the fifth technology/company at LaunchPort that has relocated from elsewhere to Baltimore. "We've had companies from the Bay Area, Texas, Midwest and New England move to the site. It's just another statement that the Baltimore/DC area is a vibrant and growing Medtech hub."
ExoRenal will be occupying engineering prototyping space within LaunchPort's engineering suites at the Port Covington City Garage and is collaborating with anchor tenant Engineered Medical Systems on commercial manufacturing.
About ExoRenal (Baltimore, MD)
ExoRenal is an early stage medical device company developing a novel hemodialysis unit – the xKidney– in which the entire dialysate compartment becomes disposable, addressing the need for the home care market for hemodialysis with simplification, lightweight, and significant convenience. Their patented active Piston Balancing (aPB) pumping technology integrates blood pump, dialysate pumps and the dialysate balancing chamber into a single disposable element, vastly reducing costs of operation and maintenance.
About The LaunchPort™ (Port Covington, Baltimore, MD)
The LaunchPort™ is a manufacturing accelerator that allows Medtech start-ups and emerging technology developers the ability to co-locate at an experienced, regulated manufacturing center. Located at the "City Garage" in Baltimore's Port Covington, it is in close proximity to two of the Country's premier medical schools (Johns Hopkins and University of Maryland) and at the center of the Nation's largest urban investment project.
About Engineered Medical Systems (Indianapolis, IN; Baltimore, MD; Penang, Malaysia)
Established in 1986, Engineered Medical Systems, does contract manufacturing and private label medical devices for a variety of private and multi-national medical devices manufacturers and distributors. Engineered Medical Systems - Malaysia in Penang, Malaysia was established in 2014 to support international products and markets. All EMS facilities are ISO-13485 certified facilities.
A sister company of EMS, Pulmodyne, Inc., develops, markets and sells a proprietary line of products in the Critical Care, Airway Management and Emergency markets, with a worldwide sales network of over 70 global distributors and 15 domestic distributors.