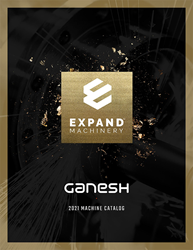 These updated catalogs feature unified and up-to-date product range information for all three machine types for easier navigation
CHATWORTH, Calif. (PRWEB) March 31, 2021
The unparalleled machine quality brought to you by Expand Machinery is on full display in their new product catalogs for GENMILL, GENTURN and GANESH Toolroom, complete with machine design imagery from the manufacturing plant and interior machine images for a better experience from purchasing to production. Expand Machinery provides extreme precision manual and CNC machining centers to fabricators, high-output toolrooms and shops with large manufacturing quotas.
"These updated catalogs feature unified and up-to-date product range information for all three machine types for easier navigation," said CEO Harvinder Singh. "The print brochures are being converted into downloadable two-page sheets for each individual machine, plus the website now has a page dedicated to the catalogs for a more streamlined research experience."
GENMILL series vertical machining centers are capable of high-volume productivity. Expand Machinery's GENMILL high-speed vertical machining centers come standard with 12,000 RPM direct drive spindles, chip conveyors, Thru Spindle Coolant, Big Plus Spindle, Spindle Chiller and 4th and 5th Axis Wiring. These VMCs are a critical element to the workflow and efficiency of leading facilities.
GENTURN provides a full line of CNC Swiss machines and CNC Swiss screw machine multi-axis machine tools. Expand Machinery's CNC metal lathes and turn-mill centers come with an assortment of shaping tools and spindles to bring your visions to life with the production consistency you demand. For manufacturing, these multi-tasking CNC Swiss lathes and screw turning machines provide greater flexibility than standard metal lathes and milling units.
Since 1985, Expand Machinery's GENMILL, GENTURN, and GANESH Toolroom have offered superior quality manual and CNC Swiss machines with comprehensive customer support throughout the life of the machine. What began as a small family operation, has expanded into a state-of-the-art business, with a focus on quality workmanship, professional service and providing the best value in the industry. Expand Machinery has sold and serviced thousands of machines to machine shops, manufacturing businesses, technical schools and distributors across all industries, and are ready to be the solution to your production needs.
About Expand Machinery
Expand Machinery LLC is a machining tools manufacturer offering highly efficient, superior quality machine centers from GENMILL, GENTURN and GANESH product lines. These products provide cutting edge multi-tasking CNC Swiss machine lathes, manual lathes, multi-axis milling machine centers, and much more.