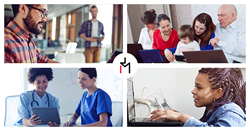 "This is almost too easy. Great service for expats who can recharge without a line or language barrier." (Elizabeth Cady on Trustpilot.com) "Very good service, on time recharge. I'm happy to use this service almost 2 years. I use this service send money to my wife back home." (Ismail Hossain)
ATLANTA (PRWEB) October 24, 2018
MobileRecharge.com, the platform serving expats and facilitating long-distance mobile top ups, added more local operators in Azerbaijan, Afghanistan, Tonga, Myanmar, Yemen, Mongolia and Jordan. That allows expats originally from these countries to send mobile credit to relatives and friends using credit from such networks like BakCell, Salaam, UCall, Mytel, Yemen Mobile, MobiCom and Orange. The process takes seconds only, and all is done online, without the need of any contract. Payment is also flexible. Visa, Mastercard and Paypal are all accepted. One can use MobileRecharge app or the website, MobileRecharge.com.
Recharging mobiles online is already a popular way for expats to support their families, partially because there's need back home, but also thanks to the easy process. Many expats prefer it to sending money back home for phone bills for example. Others use it as a quick gift. Others want to spare their relatives of the hassle of going to the store to top up their mobile phones.
Expats who want to top up mobiles in Azerbaijan have this option on MobileRecharge.com now. The same option is available from MobileRecharge app, which is free to install on any Android or iOS device. The first operator for this country is BakCell Azerbaijan. The top up is fast, and there's a minimum processing fee.
Afgani abroad can now top up Salaam mobiles in Afghanistan, besides Roshan, Etisalat, MTN and Afghan Wireless. The minimum amount they can send is a bit over $5 and the maximum is $30. The BakCell credit gets to Afghanistan instantly, no matter where it is sent from.
Top ups to Oceania are numerous too, that is why UCall Tonga has been introduced in MobileRecharge list. Anyone can send airtime to UCall Tonga and Digicel Tonga, in seconds, thanks to the online option on MobileRecharge.com or the associated app. The minimum amount allowed is $6 for UCall and $9 for Digicel.
Mytel Myanmar numbers can also receive balance from abroad via MobileRecharge.com. Relatives who send airtime to support people back home are welcome to send as little as $7. The other networks available for mobile top ups to Myanmar are: Telenor, MPT, Ooredoo, MeeTel, MecTel.
Top ups to Yemen Mobile numbers are also welcomes with the latest change. MobileRecharge.com facilitates mobile recharges of minimum $5 to numbers managed by this operator in Yemen. But they can also send credit to Sabafon Yemen and MTN.
Mongolians abroad have now the option to top up mobiles in Mongolia. More specifically to MobiCom numbers. The minimum amount is $9, and the option is available with MobileRecharge.com or MobileRecharge app from anywhere in the world.
Jordanians abroad have a new option for their top ups to: Orange Jordan. There's only one option available from the local operator for people abroad willing to support people in Jordan: $7.65. The credit gets to the destination instantly, and the sender can order it no matter the currency of their Visa or Mastercard or PayPal account.
International mobile recharges on MobileRecharge.com or from MobileRecharge app come with a list of advantages.

The credit transfer applies in real time
The transaction is 100% secure
Visa, Mastercard, Paypal accepted
MobileRecharge app (website alternative) is free to install on any Android or iOS devices
Payment is possible in all currencies
No contract needed
Daily bonuses on various destinations
Facebook and email giveaways
24/7 human Support
MobileRecharge.com is the initiator of World Top Up Day, and a brand of KeepCalling, a global telecommunications company registered in 2002 in the USA, listed by Inc 5000 as one of the fastest growing companies in the USA for 5 consecutive years. Presently, KeepCalling provides its services to hundreds of thousands of consumers, with a focus on customer satisfaction. In 2015 the company registered a revenue increase of over 200% from 2011 to 2014.