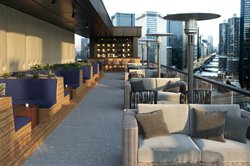 "Dining and entertainment have moved outside; camaraderie and togetherness are more important than ever. Our products help to enhance experiences by improving both aesthetics and acoustics." David Ingersoll, Sound Seal VP of Sales
AGAWAM, Mass. (PRWEB) November 08, 2022
Sound Seal, a leading manufacturer of noise control products serving the industrial, architectural, commercial and construction industries, is pleased to announce the addition of colorful, exterior-grade Aerial™ Baffles and Banners and Vivid™ Noise Barriers and Sound Curtains, now available through its Architectural and Industrial Divisions, respectively. As durable and effective as they are stunning, both lines heighten the visual appearance of Sound Seal's trusted acoustic product offerings, while maintaining their proven effectiveness.
Aerial Sound Quality Baffles and Banners, offered through Sound Seal's Architectural Division, not only offer superior acoustical values but are also lightweight and easy to install. They are all custom made and are available in a variety of sizes, finishes and colors. Now, Architectural customers may choose between interior or exterior-grade finishes.
"COVID changed companies and industries in some surprising ways, and these new baffles and banners were devised in response to these changes," explained David Ingersoll, Sound Seal's Vice President of Sales. "Dining and entertainment have moved outside; camaraderie and togetherness are more important than ever. Our products help to enhance experiences by improving both aesthetics and acoustics."
"We think Vivid will appeal to a number of industries including entertainment, sporting and manufacturing," furthered Ingersoll. "Even in industrial settings we have been seeing a shift where aesthetics are equally as important as acoustics. Customers and end users have a desire or directive to use corporate colors and stay within branding guidelines. The twelve new color offerings were selected to appeal to a wide range of customers and complement an
array of settings."
A series of webinars will be offered throughout the month of November to introduce and highlight both the Aerial and Vivid lines.
For more information about the products or these informational sessions, visit Sound Seal's website or social media channels.
###
About Sound Seal
Since 1978, Sound Seal has been a leading manufacturer of acoustical noise control products, offering the widest product selection in the soundproofing industry with innovative solutions and outstanding customer service. Sound Seal consists of three product divisions: the Industrial Division that addresses in-plant and environmental noise control; the Architectural Division that handles interiors and finishes, including an award-winning line of WoodTrends products; and the Impacta looring Division that offers floor underlayments. Please visit soundseal.com to learn more.
About Catalyst Acoustics Group
Catalyst Acoustics Group is the parent company of an elite group of acoustic, seismic, vibration and noise control companies that together, offer the broadest portfolio of noise control solutions in the market today. The independent brands, channels to market, products and services offered by each business remain unique, while leveraging the scale, deep functional expertise, broad channel reach and significant financial resources. More information about Catalyst Acoustics Group is available on the corporate website, catalystacoustics.com.